Providing greater efficiency and scalability for high-speed backplanes, Texas Instruments announced a new eight-port Gigabit Ethernet transmitter-receiver that reduces power consumption by 20 percent over comparable devices. Designed for flexibility, the new highly integrated transceiver provides an easy-to-use solution that promotes system cost savings of at least 30 percent over comparable devices in serial backplanes, switches and routers operating at Gigabit Ethernet speeds.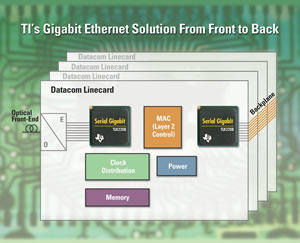 TI's new TLK2208 eight-port Gigabit Ethernet transceiver is based on a 0.18-micron CMOS manufacturing process that lowers power consumption to a maximum of 162 milliwatts (mW) per channel at 1.25-gigbits per second (Gbps). By comparison, single-channel devices operating at this speed typically consume 200 mW and require more than three times the space for the same number of channels. As the lowest-power octal device available, the TLK2208 not only saves power in operation, but also creates less heat than competing solutions, permitting a greater concentration of channels in the same board space.

Flexibility, Space Savings and Ease of Use

The eight full-duplex channels of the TLK2208, compliant with the IEEE 802.3z Gigabit Ethernet specification, are synchronizable at speeds from 1.0 to 1.3 Gbps. The channels can be used with independent timing in either of two selectable parallel interface modes. Based on reduced-pin double data rate (DDR) timing, the dual-mode feature offers greater flexibility and ease of use for system designers such as the ability to interface to existing ASICs and FPGAs. Also, the deviceґs timing mechanism provides compatibility with both source-synchronous and source-centered ASICs.

On the serial output, the TLK2208 features programmable pre-emphasis to support transmissions over long distances without data loss. Voltage-mode logic (VML) drivers on the serial side require no external capacitors or pull-down resistors, saving board space and lowering component counts while eliminating power consumption from external passive devices. Selectable Clock Tolerance (CTC) allows easier synchronization of clock and data, helping simplify design. An integrated 8-/10-bit encoder/decoder with bypass also provides more flexibility to the board designer.

The TLK2208 is a drop-in replacement for comparable octal devices, simplifying layouts and allowing manufacturers to progress to a more efficient transceiver solution without significant hardware redesign.

Availability, Packaging and Pricing

TIґs TLK2208 eight-port Gigabit Ethernet transceiver and evaluation modules (EVMs) are available now. The TLK2208 transceiver is packaged in a 289-pin ball grid array (BGA) with a 19x19-mm footprint and a 1-mm ball pitch. Planned pricing is $30 per unit in quantities of 1,000 units.