National's PLLs Extend Frequency Range to Lowest Levels, Reduce Power Consumption 75 Percent Compared to Competitive Offerings
National Semiconductor Corporation
introduced the LMX248x family of high-performance, power-efficient PLLatinum® delta-sigma phase-locked loops (PLLs). These frequency synthesizers feature the industry's best spur performance for better signal sensitivity in voice and data systems as well as reduced current consumption of 75 percent over competitive offerings.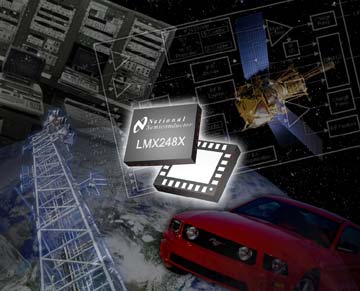 National's LMX248x family incorporates the industry's only selectable fourth-order delta-sigma modulator which enables designers to reach optimal system performance with little effort. These high-performance frequency synthesizers are well-suited for wireless basestations and broad-market radio applications such as wireless local area networks (WLANs), WiMAX, orthogonal frequency division multiplexing (OFDM) loops, test and measurement equipment, satellite up and down links, and automotive applications.

Key Technical Features and Benefits of the LMX248x Family
The LMX2485E (extended frequency), LMX2485, LMX2486 and LMX2487 products cover a frequency range of 50 MHz to 6.0 GHz with advanced features that boost performance and ease of use such as:
Lowest power consumption (75 percent better than competitive offerings)
A fourth-order programmable modulator allows users to select the optimal fractional engine to get the lowest fractional spurs
Up to a 22-bit selectable fractional modulus that provides up to 1 Hz frequency resolution
Fastlock/cycle slip reduction circuitry that enables faster locks at higher comparison frequencies, translating to faster locktimes with lower spurs
An integrated time-out counter, eliminating the need for external components or programming overhead to achieve fastlock
An on-chip crystal frequency doubler offers higher phase-detector frequencies that enables the use of lower-cost, low-frequency crystals
Pricing and Availability
The LMX248x family is available now in a 24-pin LLP® lead-free package. Prices start at $2.32 in 1K-unit quantities for the LMX2485.