Nuvoton Technology announced the new generation of high efficiency 1T 8051 product line – the N76E003 series. With built-in 18 KB Flash memory and large capacity 1 KB SRAM to support powerful functional design, the N76E003 series also offers precise internal reference voltage, as well as both TSSOP20 (4.4 mm × 6.5 mm) and QFN20 (3 mm × 3 mm) small packages. The small package can help customers reduce both PCB size and BOM cost, as well as the shape and cost of end products. The N76E003 can be widely used in many varied applications such as battery chargers, sound blaster controllers, LED lighting controllers, small home appliances controllers, thermostats and smoke sensors.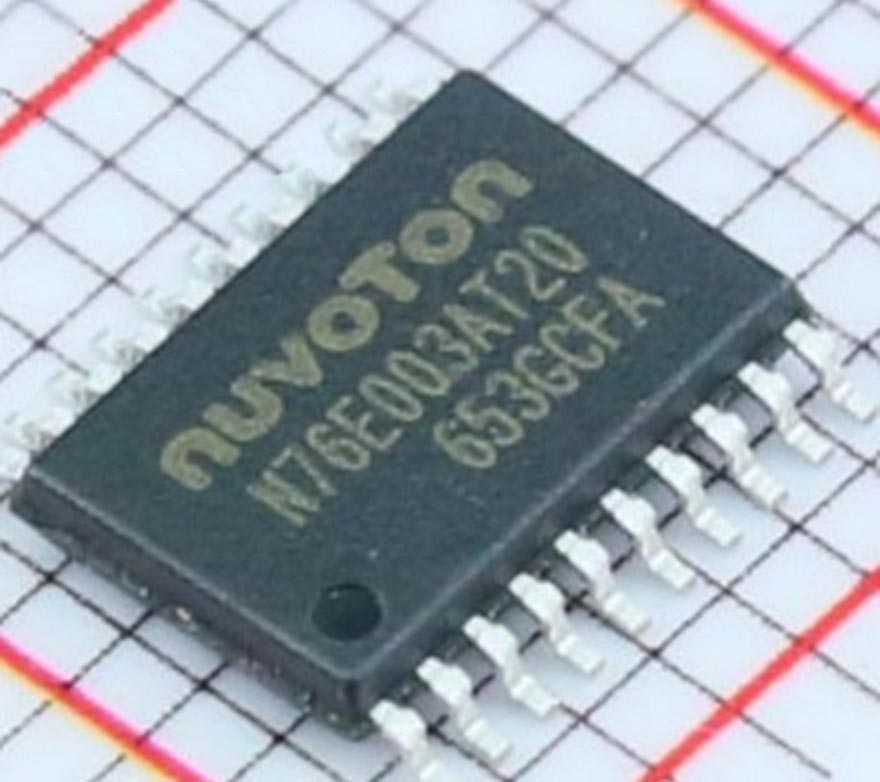 With the wide operating voltage of 2.4 V – 5.5 V, the operating temperature of –40 °C – 105 °C, high noise immunity (4 KV EFT/7 KV ESD), the N76E003 is equipped with built – in 6 channels of PWM modules, 16 MHz internal RC oscillator(±2% deviation in all conditions),10 kHz low-speed internal oscillator, RESET pin as input pin, two sets of UARTs, one I2C interface, 8-channel 12-bit high-speed 300 kHz ADC, rapid completion of the analog-to-digital signal conversion, and built-in self wake-up function. Rich peripherals make the product design extremely flexible.
With the ICP (In-Circuit Programming)/ISP (In-System Programming)/IAP (In-Application Programming) technology solutions, the N76E003 can easily achieve firmware update and data storage (Data Flash). The associated adjusted parameters and data can be stored during the manufacturing or production process without any loss due to power off. This can effectively improve production efficiency.
Development Tool Support
Nuvoton provides simple, easy to use and full featured development systems for customers to develop products using N76E003. Nuvoton's latest NT-N76E003 evaluation board is available online now for 100% emulation and onboard debugging. Furthermore, Nuvoton also offers a standalone Nu-Link programmer for N76E003 microcontrollers, allowing for easy maintenance, simple update and onsite trial production.

NT-N76E003 evaluation board.
Packaging and Availability
The N76E003 is now under sampling and volume production; it adopts both 4.4 mm × 6.5 mm TSSOP20 and 3 mm × 3 mm QFN20 20-pin package types.