ATA65XX Family Supports the New CAN FD and CAN PN Standards and Provides High-Temperature Variants for the Harsh Automotive Environment
The industry's first family of Controller Area Network (CAN) transceivers including various automotive Grade 0 qualified parts is now available from Microchip Technology. The ATA65XX family adds six new devices to Microchip's CAN portfolio.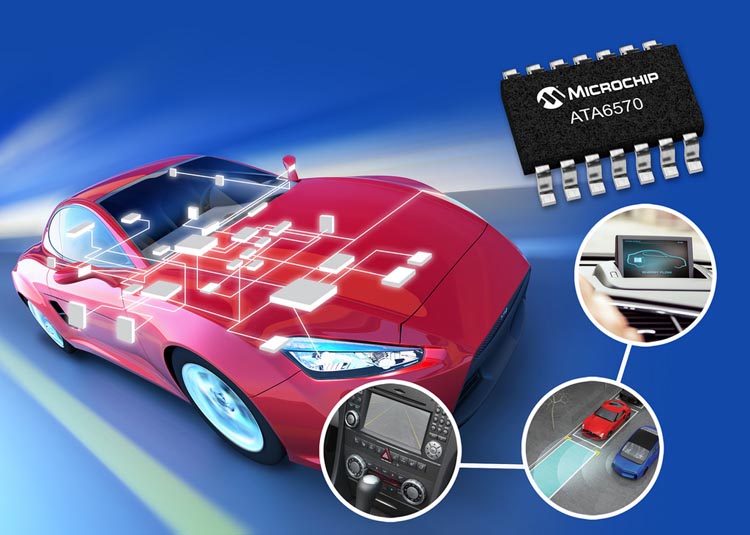 The new family supports the recently established CAN FD (Flexible Data-rate) protocol for up to five Mbit/s communication speed and the new CAN PN (Partial Networking) standard for improved energy efficiency of vehicles. Therefore, the devices are fully compliant with the ISO 118980-2/5/6, 11898-2:2016 and the SAE J2962-2 standards. The ATA6562, ATA6563, ATA6564, ATA6565 and ATA6566 build the industry's first automotive Grade 0 qualified CAN/CAN FD transceiver family with an ambient temperature rating of –40 °C to 150 °C.
The family also provides a CAN PN transceiver including a window watchdog. All devices in the family are approved by major car manufacturers for use without the external Common Mode Choke (CMC) that is required for most CAN transceivers.
All family members include wake-up capability via CAN bus with dual wake-up pattern according to ISO11898-2:2016. A modern vehicle contains more than 70 Electronic Control Units (ECUs) with CAN interface. This feature avoids unwanted power-up sequences, leading to significant energy savings and reduced emissions.
Development Support
The ATA65XX family is supported by the ATA656X-EK development kit, ATAB6570A development kit and the ATA6563 click board, all of which are available today.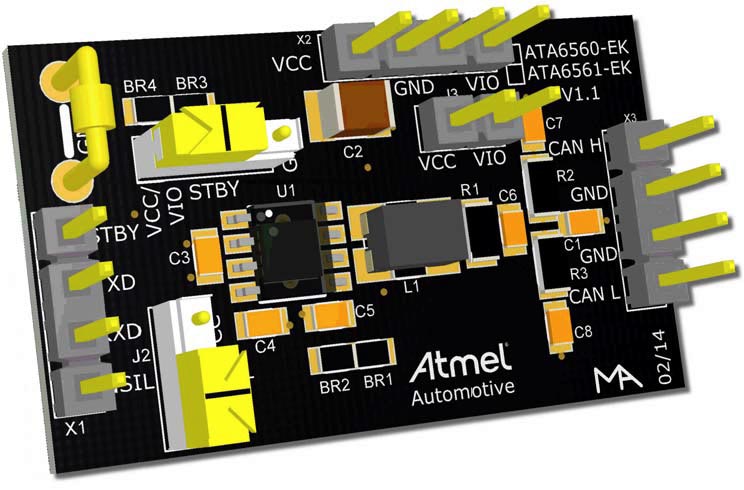 The ATA6560-EK, ATA6561-EK development board.
The ATA6563 click board.
Pricing and Availability
Microchip provides the new family in SO 8/14 and DFN8/14 packages with wettable flanks, ready for automatic optical solder-joint inspection.
The following products in the ATA65XX family are available today:
The ATA6562/63/64/66 is available in an SO8 package or DFN8 package with wettable flanks starting at $0.33 each in 10,000 unit quantities.

The ATA6565 is available in a DFN14 package with wettable flanks starting at $0.65 each in 10,000 unit quantities.

The ATA6570 is available in an SO14 package starting at $0.49 each in 10,000 unit quantities.
For additional information, contact any Microchip sales representative or authorized worldwide distributor, or visit Microchip's website. To purchase products mentioned in this press release, go Microchip's easy-to-use online sales channel microchipDIRECT or contact one of Microchip's authorized distribution partners.