Up to 5x smaller and lighter than old, slow Silicon-based designs
Navitas Semiconductor announced the world's smallest 65 W USB-PD (Type C) adapter reference design, to keep pace with the dramatic size and weight reductions in laptop designs over the last 10 years. High-frequency, high-efficiency AllGaNTM Power ICs are used to deliver 65 W in only 45 cm3 / 2.7 in3 and only 60 g in weight by minimizing the size, weight and cost of transformers, filters and heatsinks. By contract, existing silicon-based designs can require 6-7 in3 and weigh over 300 g.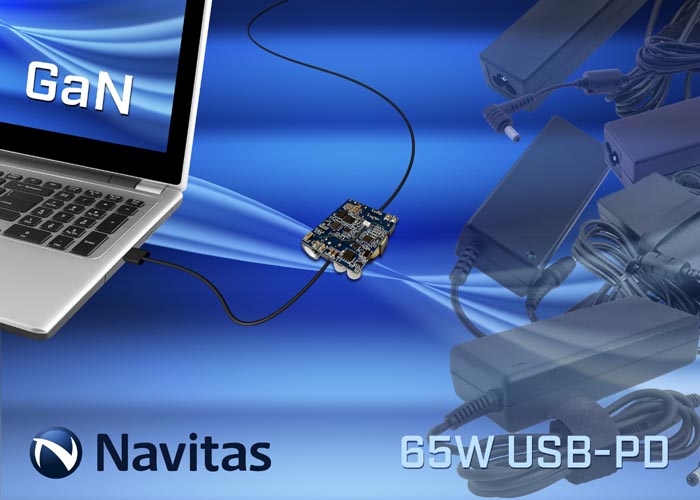 The new NVE028A reference design uses GaN Power ICs in an active clamp flyback (ACF) topology running 3x-4x faster and with 40% lower loss than typical adapter designs, to deliver smaller size and reduced costs. The design is fully compliant with European CoC Tier 2 and US DoE Level VI efficiency standards, in addition to reaching peak efficiencies of over 94% at full load.
Unlike earlier attempts at high-density adapters, the NVE028A achieves small size (51 × 43 × 20.5 mm cased) and breakthrough power density (1.5 W/cc, 24 W/in3 cased) using simple, standard, low-cost manufacturing techniques.
"Since we introduced the AllGaN platform at APEC'16, Navitas has announced single and half-bridge GaN Power ICs, the world's smallest 150 W adapter, and now the world's smallest, fully-compliant 65 W USB-PD design", said Gene Sheridan, Navitas CEO. "This is the flexible, high-performance, cost-effective platform that meets and exceeds the targets of the mobile and consumer charger markets".