Small Outline device integrates power switch and protection circuits to minimize component count and increase reliability for consumer, instrumentation and computer applications
STMicroelectronics has been named in the Top 10 DC-DC 2005 Awards by Electronic Product China (EPC) magazine, for the very efficient and easy to use L5973 2A Step Down Switching Regulator. The device is part of ST's L597x family of monolithic regulators in small outline packages which are capable of delivering up to 2.5A, over a wide voltage range, for use in advanced price-sensitive applications.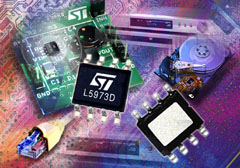 With its integrated power switch, the L5973 is available in the compact SO8-size HSOP8 exposed-pad package for improved heat dissipation. It operates over a wide 4.4V to 36V supply voltage, and its output is adjustable from 1.2V to 35V, making it an ideal DC-DC choice across a broad range of applications, and achieving an excellent balance between high performance and low cost. Efficiency is typically 90% (5V output from a 12V supply).

The high switching frequency (250kHz) and a full set of embedded protection circuits allow the size and the number of external components to be minimized, so reducing the size, cost and design time of the application, and increasing reliability. The L5973 is a 'user-friendly' product which is easy to design with – even for non-specialist power conversion designers – and ST offers on-line switching regulator simulation software, in addition to evaluation boards and application notes, to help board designers shorten the design-in cycle.

Integrated safety features include protection against feedback disconnection, internal current limiting and thermal shutdown. Master/slave synchronization is possible at up to 800kHz, and an Inhibit control input disables the device to cut quiescent current to typically 50 microamps.

ST has introduced the L597x family over the last two years to expand its long established switching regulator portfolio. While earlier products were used mainly in industrial applications and traditional power supplies, increasing demand from 'new applications' for compact regulators with 0.5A to 2.5A current rating is now being met by the new devices.

Consumer applications such as set-top boxes (STBs), DVD players and LCD monitors, as well as portable instruments, graphics cards, wireless cards, DSL modems and many computer peripherals such as hard disk drives and printers, have a common technical requirement for a lower current DC-DC converter that requires very little total board area while delivering high performance and good reliability. Distributed power systems also benefit from the compact design.

The L5973 is in volume production now. US pricing is $1.00 each in quantities of 25,000 units.