Melexis entered the Excellence in Product Design for Medical category with its MLX90632, the world's smallest medical-grade FIR sensor. The temperature sensor is assembled in a surface mount package for use in a variety of applications, including wearables and, in particular, advanced in-ear-devices (so-called hearables) and clinical point-of-care applications where highly accurate human body temperature measurement is required.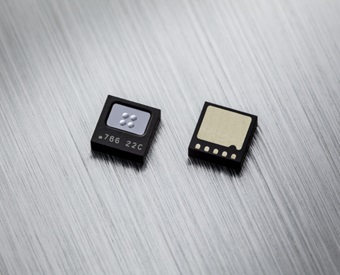 The MLX90632 is based upon Melexis' established far-infrared (FIR) technology that utilizes the fact that all objects emit heat radiation. Miniaturized far-infrared sensors are typically sensitive to thermal disturbances, however, the MLX90632 mitigates this effect through sophisticated compensation algorithms; delivering high levels of thermal stability. The new medical-grade MLX90632 is optimized for the normal human body temperature range, where it offers medical-grade accuracy of ± 0.2 °C thanks to advanced in-factory calibration procedures.
The MLX90632 is provided in a Surface Mount Device (SMD) Quad Flat, No-leads (QFN) package, rather than a metal case. This overcomes the main drawbacks of existing sensors, as it allows Melexis to make a total non-contact temperature sensor in a much smaller package. The advanced signal processing integrated into the device overcomes the issue of thermal stability, allowing the MLX90632 to be used in any medical application where temperature measurement is required.