Designers of consumer electronics and industrial control applications can now take advantage of 8-bit microcontroller solutions that feature an attractive combination of performance, low power and price. Freescale Semiconductor is introducing the S08QG family of highly integrated, cost-effective 8-bit microcontrollers (MCUs).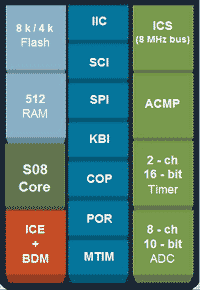 To deliver increased on-chip integration, the MC9S08QG8/QG4 MCUs add an enhanced 8-channel, 10-bit analog-to-digital converter (ADC) designed for better resolution, speed of conversion and low-power. The onboard analog integration allows customers to easily interface to analog inputs with minimal external glue logic. The inclusion of a serial communications interface (SCI), a serial peripheral interface (SPI) module and inter-integrated circuit (IIC) bus modules maximizes the customer's options for external components to interface with and enables increased design flexibility.
Reducing system costs
Flexible timer options allow for greater software flexibility with the 8-bit modulo timer module (MTIM), as well as motion control capabilities with the 2-channel Timer/PWM module (TPM). The combination of these components on a single chip reduces the need for external system components and can help decrease the overall system costs.
The 9S08QG8/QG4 also offers on-chip integration without compromising the low power consumption demands of many 8-bit applications by offering a series of clock source options. The internal clock source (ICS) module provides an accurate, low power internal clock generator, eliminating the need for and cost of an external crystal or oscillator. The 9S08QG8/QG4 MCUs are capable of supporting external clock source inputs from 32 kHz up to 20 MHz.
Speeding system development
Freescale provides an out-of-the-box development experience with cost-effective boards, production-worthy code via software libraries and the award-winning CodeWarrior™ development environment to help customers bring products to market easily and quickly.
The 9S08QG8/QG4 devices include a background debugging system and on-chip in-circuit emulation (ICE) with real-time bus capture, to eliminate the need for expensive emulation tools
Virtual lab allows customers a hands-on experience prior to purchasing
MC9S08QG8/QG4 product features
Based on the HCS08 core
Up to 20MHz (10MHz bus) at >2.1V operation for 100ns minimum instruction time and 16MHz (8MHz bus) frequency at <2.1V
8K and 4K reprogrammable flash options
Synchronous and asynchronous serial peripherals (SPI, IIC, SCI)
8-channel, 10-bit Analog to Digital Converter (ADC) with temperature sensor
Analog comparator module (ACMP)
2-channel Timer/PWM module (TPM) and 8-bit modulo timer module (MTIM)
8-pin keyboard interrupt (KBI) module with software selectable polarity on edge or edge/level modes
Internal clock source (ICS) module containing a frequency-locked loop (FLL)
External oscillator to support external clock sources
System protection features, such as low voltage detect (LVD), power on reset (POR), and computer operating properly (COP) counter with independent oscillator
Background debugging system and on-chip in-circuit emulation (ICE) with real-time bus capabilities
Data Sheet:
Reference Manual:
Application Notes:
Price and availability
The 8-bit microcontrollers are available for the suggested resale price of $0.89 (USD) for the MC9S08QG4 and $0.99 for the MC9S08QG8 for 1K unit MSRP on the least expensive package.