»
News
»
Microcontrollers
Freescale delivers cost-effective, small footprint 8-bit microcontroller for automotive body electronics applications
Freescale Semiconductor announced today the S08SC4, the newest addition to its embedded 8-bit microcontroller (MCU) portfolio for the automotive industry. Offering 4k FLASH memory in conjunction with a highly integrated peripheral feature set in a small footprint package, the S08SC4 is ideally suited for cost sensitive and space constrained applications such as pushbutton control, simple lighting, mirror dimming and basic motor control.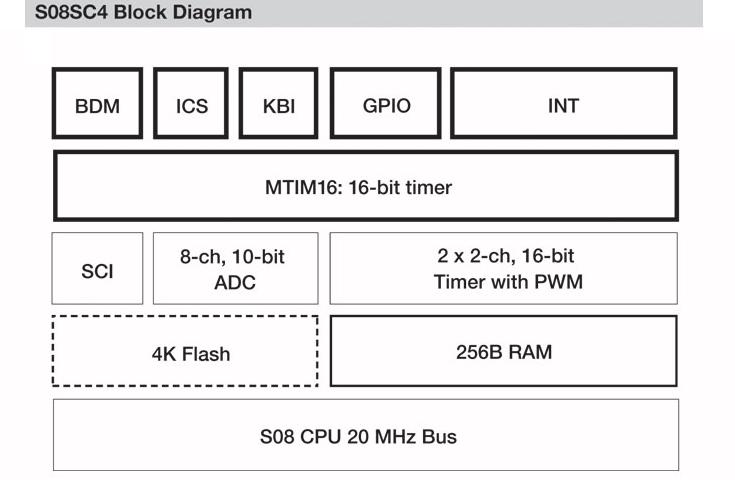 Some of the key features include an embedded serial communications interface supporting entry level Local Interconnect Networking communication and an internal clock source eliminating the need for an external crystal, thus reducing overall system cost. In addition, the S08SC4 is pin and software compatible with the S08SG family; providing users with an easy migration path to larger memory size products should requirements change.
Features:
8-Bit HCS08 Central Processor Unit (CPU)

Up to 40 MHz HCS08 CPU (central processor unit);
up to 20 MHz bus frequency
HC08 instruction set with added BGND instruction

On-Chip Memory

4 KB of FLASH with read/program/erase over full operating voltage and temperature
256 bytes of Random-access memory (RAM)

Power-Saving Modes

Two very low power stop modes
Reduced power wait mode

Clock Source Options

Oscillator (XOSC) — Loop-control Pierce oscillator; Crystal or ceramic resonator range of 32 kHz to 38.4 kHz or 1 MHz to 16 MHz
Internal Clock Source (ICS) — Internal clock sourcemodule containing a frequency-locked loop (FLL)controlled by internal or external reference; precisiontrimming of internal reference allows 0.2 % resolutionand 2.0 % deviation over temperature and voltage;supports bus frequencies from 2 MHz to 20 MHz.

System Protection

Watchdog computer operating properly (COP) reset with option to run from dedicated 1 kHz internal clock source or bus clock
Low-voltage detection with reset or interrupt; selectabletrip points
Illegal opcode detection with reset
Illegal address detection with reset
FLASH block protect
Reset on loss of clock

Development Support

Single-wire background debug interface
Breakpoint capability to allow single breakpoint setting during in-circuit debugging

Peripherals

SCI — Serial Communication Interface

Full-duplex non-return to zero (NRZ)
LIN master extended break generation
LIN slave extended break detection
Wake-up on active edge

TPMx — Two 2-channel Timer/PWM modules (TPM1 and TPM2)

16-bit modulus or up/down counters
Input capture, output compare, buffered edge-aligned or center-aligned PWM

ADC — Analog to Digital Converter

8-channel, 10-bit resolution
2.5 μs conversion time
Automatic compare function
Temperature sensor
Internal bandgap reference channel

Input/Output

12 general purpose I/O pins (GPIOs)
8 interrupt pins with selectable polarity
Hysteresis and configurable pull-up device on all input pins; Configurable slew rate and drive strength on alloutput pins.

Package Options
Operating Parameters
Comprehensive development support
The S08SC4 family leverages and expands on the extensive suite of hardware and software development tools available today for the S08 families. The cost effective DEMO9S08SC4 demonstration board is available for the creation of embedded designs.The CodeWarrior Development Tool Suite and a wide range of third-party development software tools are available to help ease and accelerate application development.
You may have to

register

before you can post comments and get full access to forum.
News on theme:
RadioLocman on the Social Web: