New MAX22500E/1E/2E RS-485 transceiver series built for high performance, robust communications, and small size
Industrial designers can now achieve 2x faster data rates and extend cable length by up to 50% with MAX22500E, MAX22501E, and MAX22502E RS-485 transceivers from Maxim Integrated Products.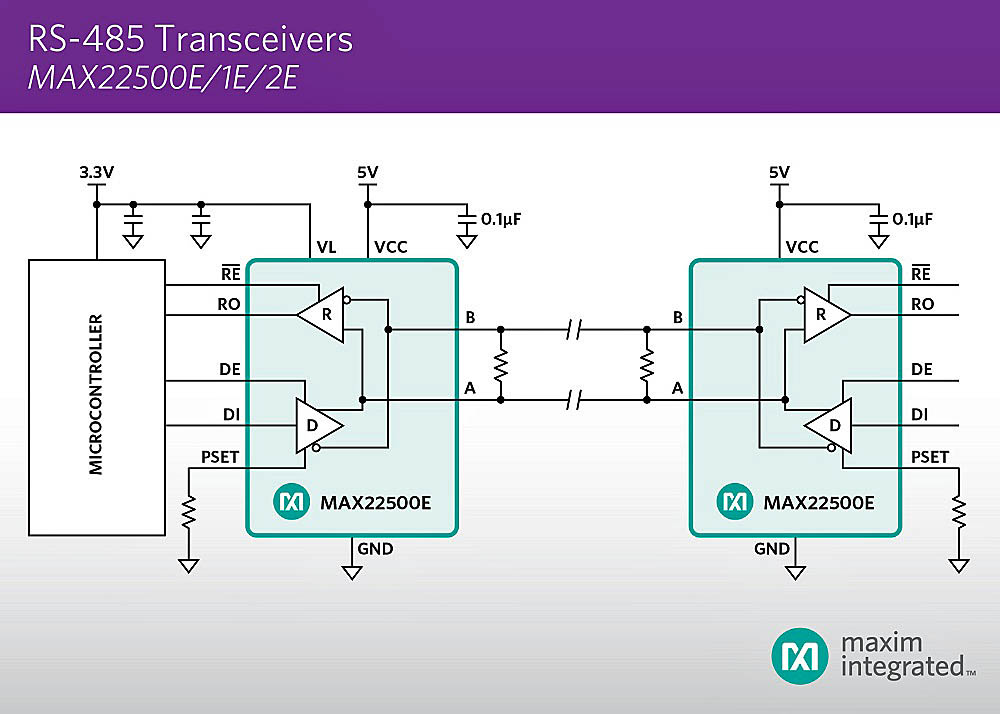 With motion control systems requiring more accuracy over longer distances, system designers are challenged to maintain faster data rates and achieve robust communications with longer cables. A production site, for example, may not efficiently function with a slow data rate and short cables as it must transfer accurate information quickly and over a long distance.
The MAX22500E/MAX22501E (half-duplex) and MAX22502E (full-duplex) ESD-protected RS-485/RS-422 transceivers extend the reach of communication up to 100 Mbps over 50 m. This provides the industry's fastest data rates for accurate, cost-effective, and robust communication across long cables for a variety of motion control applications. The settable pre-emphasis feature within the MAX22500E and MAX22502E enables 2x faster data rates compared to competitive solutions for increased encoder resolution and reduced latency. Pre-emphasis extends cables up to 50% longer to communicate over longer distances. A large receiver hysteresis (250 mV) provides superior robustness to EFT. In addition, by improving the signal integrity and robustness, system designers can achieve the same level of performance with lower-cost cables. The transceivers operate over the –40 °C to +125 °C temperature range.
Key Advantages
Robust communications:
Extends the reach to 100 Mbps over 50 m (or 50 Mbps over 100 m); Settable pre-emphasis improves data integrity with high data rates; 250 mV receiver hysteresis for EFT robustness

High Performance:
Fastest 100 Mbps data rate for higher resolution/accuracy communication; flexible low voltage logic supply interface down to 1.6 V; Improved signal integrity enables less expensive cable costs

Small Size:
Reduced footprint with small 8-, 10-, and 12-pin TDFN packages
Availability and Pricing
The MAX22500E is available in a 10-pin TDFN (3 mm × 3 mm) package for $3.51 (1000-up, FOB USA) at Maxim's website and select authorized distributors

The MAX22501E is available in an 8-pin TDFN (3 mm × 3 mm) package for $1.79 (1000-up, FOB USA) at Maxim's website and select authorized distributors

The MAX22502E is available in a 12-pin TDFN (3 mm × 3 mm) package for $3.94 (1000-up, FOB USA) at Maxim's website and select authorized distributors

The MAX22500EEVKIT#, MAX22501EEVKIT#, and MAX22502EEVKIT# evaluation kits are each available for $95