Integrated Device Technology (IDT) announced a 15 W wireless power chipset featuring a bi-directional communication channel between the transmitter and receiver. The communication channel enables customers to authenticate a wirelessly-charged receiver device with a specific charging transmitter base and to transfer data without any additional hardware. This is the industry's first widely available 15 W solution offering proprietary pairing of transmit and receive solutions for myriad wireless power applications.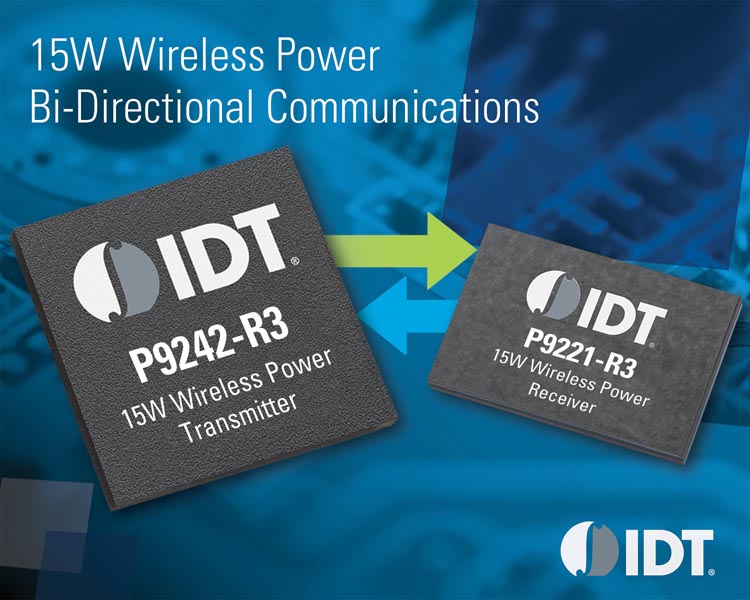 The IDT® P9242-R3 and P9221-R3 are 15 W wireless power transmitter and receiver ICs, respectively, that are included on the transmitter and receiver boards in the WP15WBD-RK Evaluation Kit. In-band, bi-directional communication is achieved by communicating signals between the wireless power coils using IDT's embedded microprocessor technology combined with proprietary algorithms – no additional coils, antennas, or components are required.
The bi-directional evaluation kit adds bi-directional communication to IDT's standard, WPC 1.2-compliant, 15 W transmitter P9242-R3 and receiver P9221-R3 evaluation kits without compromising any existing features. The solution delivers industry-leading power conversion efficiency of over 87% from transmitter input to receiver output.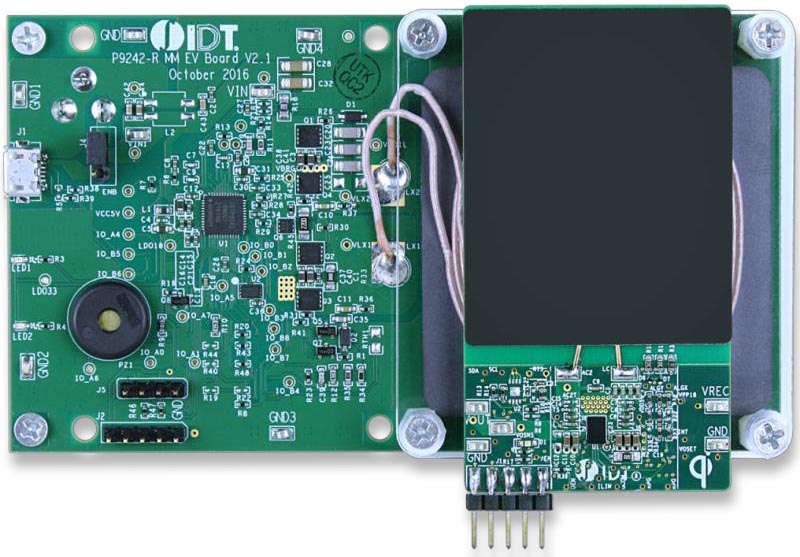 WP15WBD-RK Bi-directional Data Transfer Evaluation Kit.
The WP15WBD-RK wireless power evaluation kit includes easy-to-use reference boards and comprehensive design support collateral – easing system integration and enabling immediate prototyping.