LM6211 Is Well-Suited for Industrial and Telecommunication Applications With High Impedance Sources
A new, rail-to-rail output CMOS operational amplifier from National Semiconductor Corporation offers a wide operating range up to 24 V and meets the demanding low-noise, low-power and low-input bias requirements of industrial and telecommunications applications.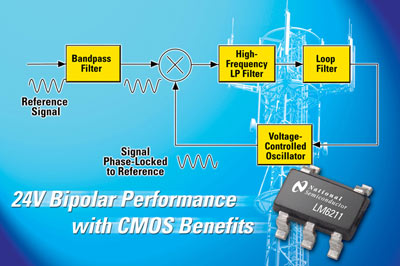 The LM6211 is a 20 MHz wide-bandwidth, low-noise operational amplifier with a single supply- voltage range of 5 V to 24 V and a 0.5 pA low input bias current for easy interface with high impedance sources. With an input voltage noise of 5.5 nV/sqrt Hz at 10 kHz and 10 fA/sqrt Hz input current noise, the LM6211 improves signal fidelity found in wireless and sensor interface applications. In addition, its low input capacitance ensures stability when used at high-frequencies or in high-gain sensor applications. To accurately monitor voltage conditions with minimal system power consumption, the LM6211 draws a low supply current of less than 1 mA.

Key Features and Benefits
The LM6211, built on National's proprietary power vertically integrated PNP or PVIP family of BiCMOS processes, has a CMOS input stage that enables high-input impedance sources and higher-bandwidth operation. This op amp has guaranteed performance from -40 degrees Celsius to 125 degrees Celsius. It also has an output short-circuit current, which limits the current to 25 mA, and a slew rate of 5.6 V/us.

The LM6211's rail-to-rail output stage remains stable with capacitive loads as high as 500 pF, providing the maximum possible dynamic range at the output. The dynamic range is important for applications requiring a large output swing, such as wideband, phase-locked loop (PLL) synthesizers, which need an active loop filter to drive a wide frequency range voltage-controlled oscillator (VCO).

The LM6211 can be used with larger resistors due to its smaller input capacitance of 5.5 pF at 24 V, providing more gain without instability. This also makes the LM6211 ideal for wideband transimpedance amplifiers, which require a wide bandwidth, low input referred noise and low input capacitance. The op amp also is well-suited for low-noise applications that require an operational amplifier with very low input bias currents and a maximum output voltage swing of 24 V, such as an active loop-filter for PLLs.

Pricing and Availability
Available now in a SOT23-5 package, the LM6211 is priced at $1.19 in 1,000-unit quantities. Lead-free package options are also available.