Industry's smallest 36-V, 1-A DC/DC step-down power module shrinks board space by up to 58 percent
Modules from Texas Instruments feature tiny MicroSiP packaging and achieve up to 92 percent efficiency
Texas Instruments (TI) introduced two new 4-V to 36-V power modules that measure just 3.0 mm by 3.8 mm and require only two external components for operation. The 0.5-A LMZM23600 and 1-A LMZM23601 DC/DC step-down converters achieve up to 92 percent efficiency, which minimizes energy loss, and feature tiny MicroSiP™ packaging that shrinks board space by up to 58 percent. The converters expand TI's power module portfolio to address up to 1-A performance-driven, space-constrained communication and industrial designs, including field transmitters, ultrasound scanners and network security cameras.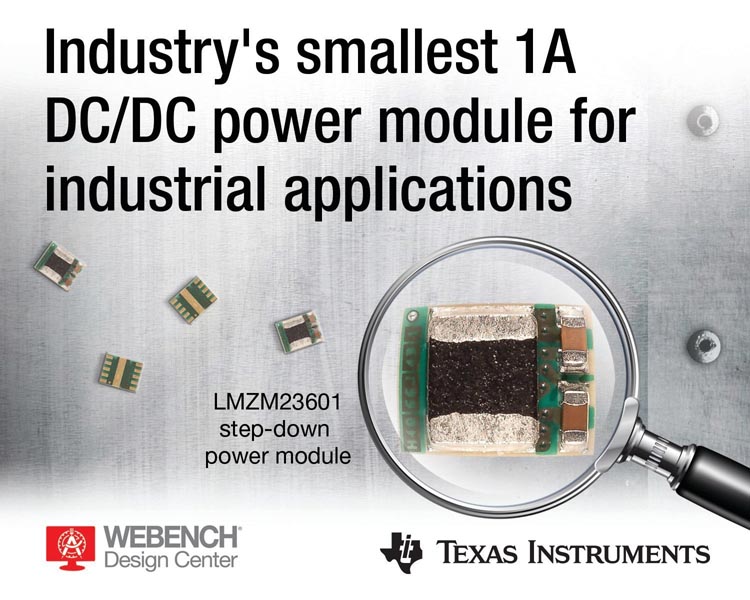 The LMZM23600 and LMZM23601 modules are offered with either fixed 5-V or 3.3-V output voltages, or with external synchronization and adjustable 2.5-V to 15-V output voltages. The LMZM23601 features a mode pin that allows flexibility to operate at a fixed frequency for low electromagnetic interference (EMI), or an automatic pulse frequency modulation control mode for high efficiency at light loads.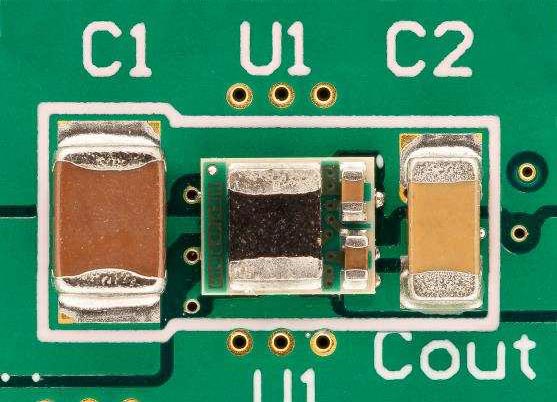 Single-Sided Layout Solution Size 24-V to 5-V, 0.5-A
DC-DC Converter.
Key features and benefits of the LMZM23600 and LMZM23601
Provides 92 percent peak efficiency and 85 percent full-load efficiency for 24-V to 5-V power conversions.

30-µA quiescent current increases light-load efficiency and extends battery life in battery-powered applications.

Small, 10-pin, 3.0-mm-by-3.8-mm-by-1.6-mm MicroSiP package with integrated inductor enables a complete fixed 3.3-V or 5-V output solution measuring just 27 mm2. With only two external components, the module reduces solution size by up to 58 percent when compared to a discrete solution with similar input and output voltages, output current and switching frequency.
Support and tools speed designs
Speed up the design process with TI's WEBENCH® online design tools.
Order the LMZM23601evm evaluation module (EVM).
Watch the video, "Unbox and quickly configure TI's LMZM23601 power module EVM."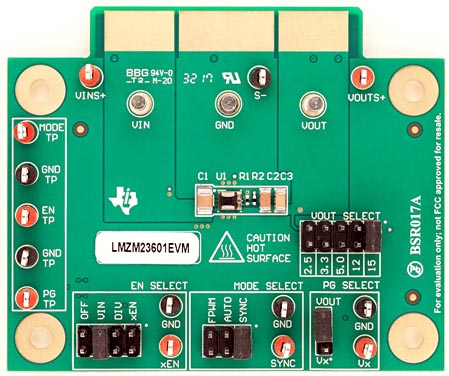 LMZM23601evm evaluation module.
Availability and pricing
Prototype samples of the 1-A LMZM23601 with an adjustable output voltage are available now through the TI store. Production samples of the 0.5-A LMZM23600 with fixed output voltages, as well as the LMZM23601 with adjustable and fixed output voltages, will be available in May 2018. The LMZM23600 is priced at US$1.95 and the LMZM23601 is priced at US$2.40 in 1,000-unit quantities.
You may have to

register

before you can post comments and get full access to forum.
News on theme:
RadioLocman on the Social Web: