5-Output Universal PMIC, designed to meet the power requirements of a broad range of low power FPGAs, DSPs, and microprocessors
Includes a conditional sequencing engine suitable for nearly any processor
Integrated 8-bit ADC with 2 external inputs and temperature monitoring provides telemetry and flexibility
MaxLinear announced a Universal PMIC specifically designed to power a broad range of low power FPGAs, DSPs, and microprocessors. This perfect power companion is a great fit for FPGAs and SoCs used in embedded computing systems, IoT clients, industrial control systems, POS terminals and test equipment.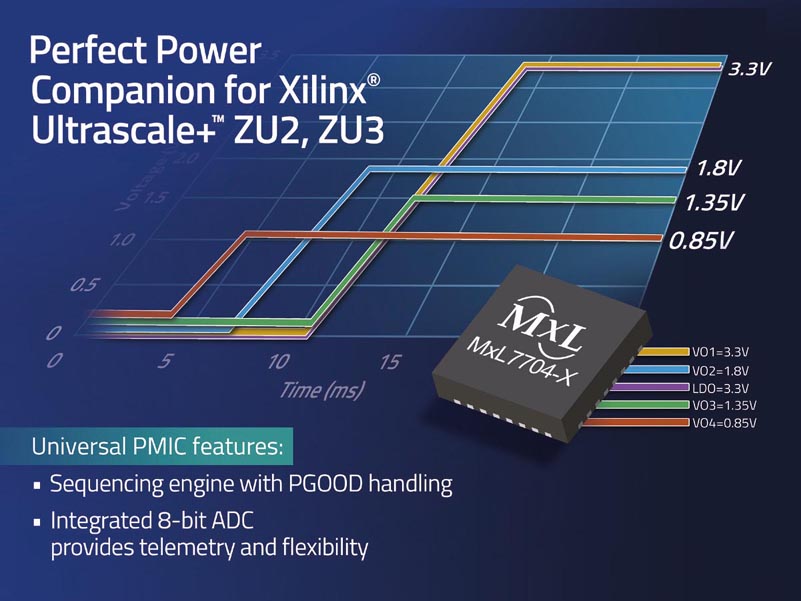 The MxL7704 includes four synchronous step-down buck regulators that provide system, memory, I/O and core power from 1.5 A to 4 A. An on-board 100 mA LDO provides clean 1.5 V to 3.6 V power for analog sub-systems. This PMIC utilizes a conditional sequencing state machine that is flexible enough to meet the requirements of virtually any processor. The MxL7704-X and MxL7704-A are the first standard configurations to be launched based on this unique universal PMIC.
The MxL7704-X has been optimized for powering the Xilinx Zynq Ultrascale+ ZU2 and ZU3 MPSoCs. The bucks are pre-programmed to provide the core rail (0.85 V up to 4 A), LPDDR3 memory power (1.35 V), I/O and system power (1.8 V and 3.3 V). Sequencing is tailored to the unique needs of the ZU2 and ZU3 MPSoCs, offering accelerated time to market with Xilinx Zynq Ultrascale+ ZU2 and ZU3 devices.
The MxL7704-A is designed to power a wide range of ARM Cortex- based processors (A7, A9, and A53) which use a more conventional sequencing scheme where the I/O rails power up first and core is last. The bucks provide the 1.2 V core rail, 1.35 V LPDDR3 power, 1.8 V and 3.3 V rails for I/O and system power.
This PMIC offers a high 1 MHz to 2.1 MHz switching frequency and utilizes a current mode architecture with internal compensation. These features enable a very fast transient response to line and load changes without sacrificing stability or board space. An I2C interface allows dynamic voltage control on all outputs, status monitoring by channel, input voltage status, sequencing control and PGOOD routing. In addition, an on-board 8-bit ADC has 2 external inputs and die temperature monitoring. It operates over an input voltage range of 4 V to 5.5 V and includes fault protection features such as input under-voltage, overvoltage, overcurrent protection, and thermal protection.
Availability
The MxL7704-X and MxL7704-A are available now in a RoHS compliant, green/halogen free, industry standard 5 mm × 5 mm 32-pin QFN packages. Evaluation boards and samples are available at www.exar.com/MxL7704.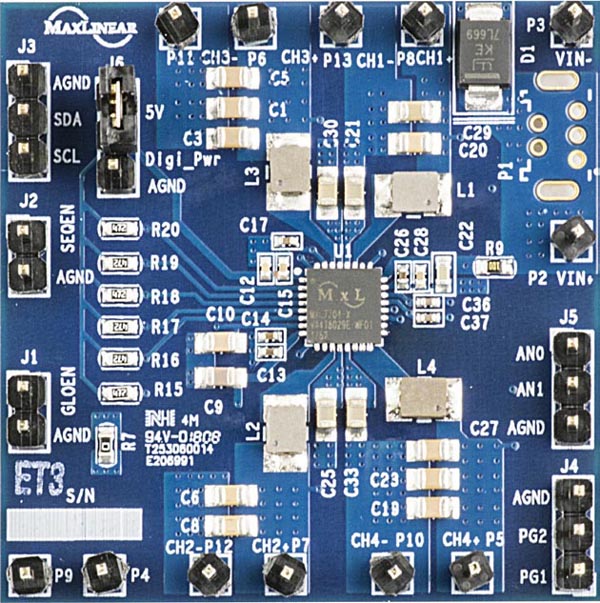 The MxL7704EVB Evaluation Board.