Infineon Technologies and Zylia, a Poland-based developer of recording technologies, have enabled the world's first portable recording studio. The integration of Infineon's class-leading 69 dB SNR digital MEMS microphone into the Zylia ZM-1 microphone array provides a new approach to music recording. The 19-capsule microphone array with high-end 24-bit recording resolution allows users to record entire sound scenes with just one microphone. Equipped with XENSIV™ silicon microphones, the microphone array delivers high-fidelity and far-field audio recording. In addition, it provides multi microphone noise- and distortion-free audio signals for advanced audio signal processing.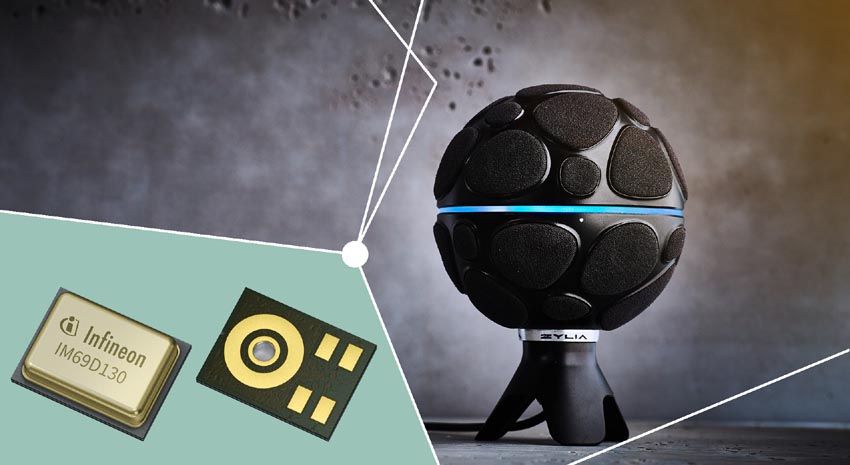 Advanced digital sound processing algorithms and microphone array technology make the Zylia ZM-1 a sophisticated recording solution in a lightweight enclosure. The XENSIV silicone microphones from Infineon feature with their low self-noise, wide dynamic range, low distortion and a high acoustic overload point. In addition, the Zylia Studio dedicated application for the ZM-1 enables separation of instruments and vocal tracks from the overall recorded sound mixture.
As a third-order Ambisonics audio recorder, the ZM-1 is also suitably robust for 360-degree and virtual reality (VR) audio production. Zylia supports these workflows with its new Zylia Studio PRO and Zylia Ambisonics Converter software. They offer sound engineers and VR enthusiasts more control over the recording process and greater post-processing capabilities.