MAX20069 reduces design size by one-third versus competitive solution
Automotive infotainment designers can now upgrade to bigger, higher resolution displays with greater ease, reduced cost and smaller solution size with the MAX20069 from Maxim Integrated Products. The MAX20069 provides the industry's first solution integrating four I2C-controlled, 150 mA LED backlight drivers and a four-output thin-film-transistor liquid-crystal display (TFT-LCD) bias in a single chip. The IC can reduce design footprint up to one-third compared to the closest competitor's parts.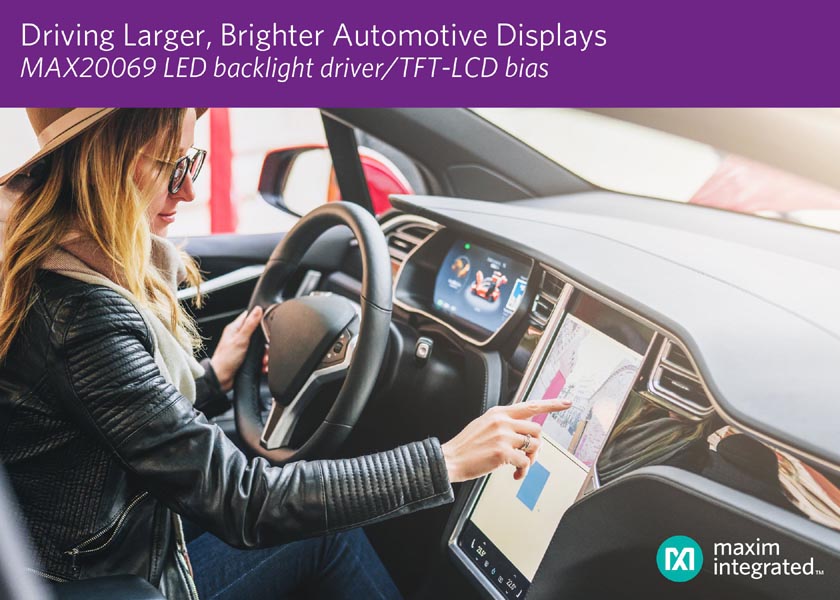 Automotive displays are growing larger and more sophisticated as vehicle manufacturers lure buyers with greater information and entertainment options. Market research suggests a 39 percent compound annual growth rate for the 8-inch display market in vehicle instrument clusters, center stack and heads-up display systems. Instrument clusters are expected to migrate to 12.3-inch displays soon. As a result, automotive infotainment system designers will require power solutions with precision, flexibility and small overall solution size to meet increasingly complex system requirements.
MAX20069 supports larger screen sizes and higher resolution by providing positive analog supply voltage (PAVVD) and negative analog supply voltage (NAVDD), both of which are required for low-temperature polysilicon panels (LTPS) that deliver higher resolution and lower cost than amorphous silicon panels now currently in use. The IC also supports the high currents that next-generation displays require, with 150 mA per channel in the four-channel LED driver for 8-inch or larger displays and higher resolutions. MAX20069 operates over the minus 40 °C to 105 °C ambient temperature range and is available in a 6 mm × 6 mm TQFN package.
Key Advantages
High Integration:
Reduces design footprint, providing TFT-LCD bias with four rails plus four 150 mA LED backlight drivers.
​

Single board supports panels from multiple manufacturers through a resistor or I2C programmable sequencing to further reduce solution size

Utilizes 25 percent of the microcontroller (MCU) register bits versus closest competitor's solution, eliminating the need for a more powerful and costlier MCU in display design


Performance:
Delivers twice the dimming ratio compared to the closest competitor's offering, maintaining panel readability during transition to different light conditions; MAX20069 supports increased resolution through a 10,000:1 pulse-width modulation (PWM) dimming ratio at 200 Hz

Safety and Built-in Diagnostics:
An easy-to-use I2C interface quickly pinpoints problems, directing the microcontroller to adjust to conditions or alert the driver of a failure

Electromagnetic Interference (EMI) Mitigation:
2.2 MHz switching frequency, spread spectrum and phase-shift capabilities help mitigate interference and emissions
Availability and Pricing
The MAX20069 is available at Maxim's website for $4.40 (1000-up, FOB USA); also available from select authorized distributors
The MAX20069EVKIT# evaluation kit is available for $45.