High-speed, quad-channel ISL78365 pulses high intensity lasers up to 750 mA, projects full-HD resolution video onto windshield
Intersil Corporation announced the ISL78365 laser diode driver for automotive heads-up display (HUD) systems. The highly integrated device pulses four high intensity lasers up to 750 mA for projecting full-HD color video onto the windshield at nearly twice the current of competitive solutions. The ISL78365's higher current and faster switching speed enables HUDs with high resolution, high color-depth and high frame-rate projections.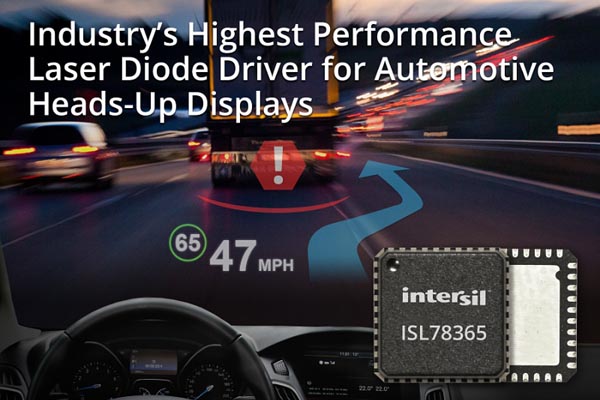 Laser HUDs are the latest innovation in advanced driver assistance systems (ADAS). A vehicle's HUD keeps drivers focused on the road, safely providing speed, warning signals and other vital vehicle and navigation information on the windshield directly in the driver's line of sight. The new generation of augmented reality laser HUDs offer near-zero latency and a wide field of view. They overlay additional real-time information such as traffic signs and a planned turning lane, virtually painting arrows and lines on the road ahead to make navigation directions obvious and easy to follow.
The quad-channel ISL78365 is a complete solution for driving lasers in the scanned-MEMS laser projection systems being deployed in next generation autos. It is the industry's only laser driver with a fourth channel for supporting a wide variety of laser diode configurations, allowing system designers to achieve the desired brightness and sharp, rich colors with high contrast. The ISL78365 provides sub-1.5 ns rise and fall times for faster switching speed than competitive devices, resulting in high frame rate, HD color video. The device also offers 10-bit color and 10-bit scale resolution to support a wide variety of contrast levels for each driver channel. And its flexible synchronous parallel video interface supports pixel rates up to 150 MHz or 1900 pixels per line.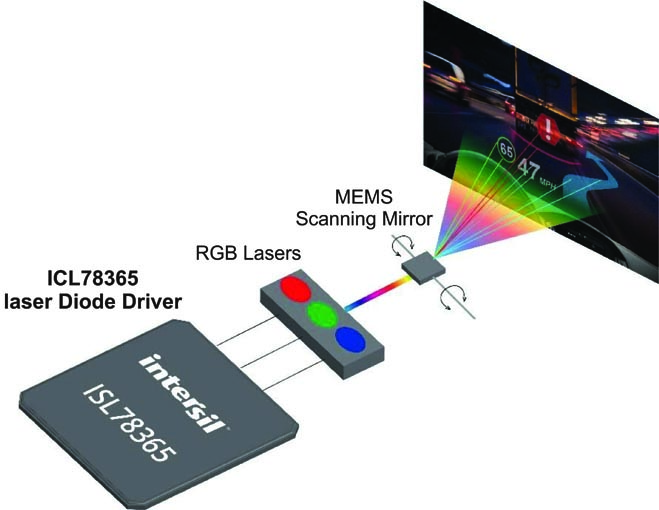 Laser scanned-MEMS projection system for automotive head-up display.
The ISL78365's dynamic power management optimizes the laser-diode power supply and offers three power saving modes for improved efficiency and reduced power dissipation to meet system thermal requirements. The programmable multi-pulse return to zero (RTZ) feature reduces speckling, and the device's wettable flank QFN package simplifies integration into compact laser projection HUDs.
Key Features and Specifications
Up to 750 mA of peak current output per channel

Fast output switching speeds with pulse rise/fall times of 1.5 ns typical for crisp pixels

Supports up to 150 MHz maximum output pixel clock

Laser voltage sampler with integrated dynamic power optimization controller to conserve system power

Flexible data order supports multiple RGB laser diode opto-mechanical placement

Blanking time power reduction reduces laser diode driver current consumption

Programmable multi-pulse RTZ for maximum flexibility and speckle reduction

Single 3.3 V supply and 1.8 V video interface for low power operation

3-wire serial peripheral interface

AEC-Q100 Grade-1 qualified for operation from –40 °C to +125 °C

Wettable flank QFN package allows optical inspection of solder joints for lower manufacturing cost
The ISL78365 can be combined with the ISL78206 2.5 A synchronous buck regulator, ISL78201 2.5 A synchronous buck/boost regulator, ISL78233 3 A synchronous buck regulator, ISL78302 dual 300 mA LDO and ISL29125 digital RGB color light sensor to provide a complete power supply system for automotive laser projection HUDs.
Pricing and Availability
The quad-channel ISL78365 laser diode driver is available now in a 6 mm × 6 mm 40-lead WFQFN package and is priced at $9.82 USD in 1k quantities.