ABLIC Inc. launched the S-19630AB, a zero-drift operational amplifier for automotive use.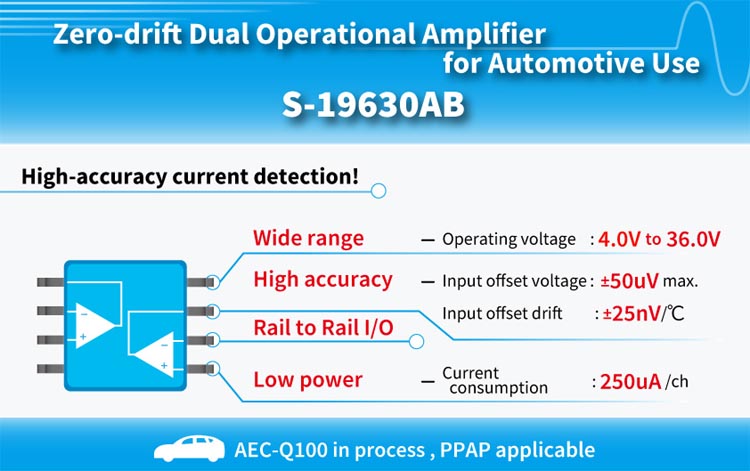 A zero-drift operational amplifier monitors its offset voltage at all times to automatically adjust it to zero.
The new S-19630AB product is an operational amplifier for automotive use featuring a wide operation voltage range (4.0 V to 36 V), low offset voltage of 50 µV max., low offset voltage drift of 25 nV/°C, current consumption of 250 µA and is capable of operating at 125 °C.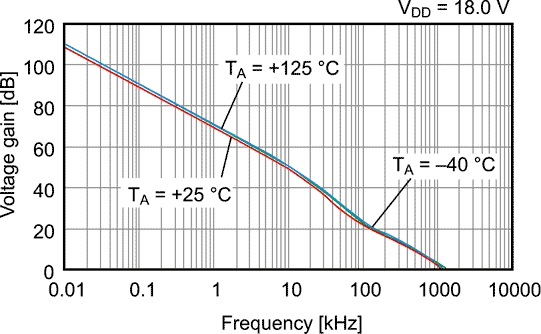 Voltage gain vs. Frequency.
By employing an offset canceling circuit provided by our unique chopper-stabilizing techniques, the S-19630AB achieves excellent low-offset voltage characteristics. The S-19630AB also complies with both the AEC-Q100 automotive IC quality standard and the "Production Part Approval Process" (PPAP) established by the Automotive Industry Action Group (AIAG).
Major Features
A wide operation voltage range
High-accuracy due to low offset voltage and low offset voltage drift
Rail-to-Rail input and output operation
Ensures quality of automotive equipment
Application Examples
High-accuracy current detection
Multi-sensor interface