The TMC2160 is a versatile, high voltage gate-driver getting the best performance out of stepper motors from NEMA23 up to NEMA34 and higher with Step/Dir interface and SPI
TRINAMIC Motion Control announces the arrival of the new high-performance stepper motor driver TMC2160. Combined with powerful external MOSFET driver stages, the versatile chip covers a wide spectrum of applications from industrial and lab-automation to CNC milling.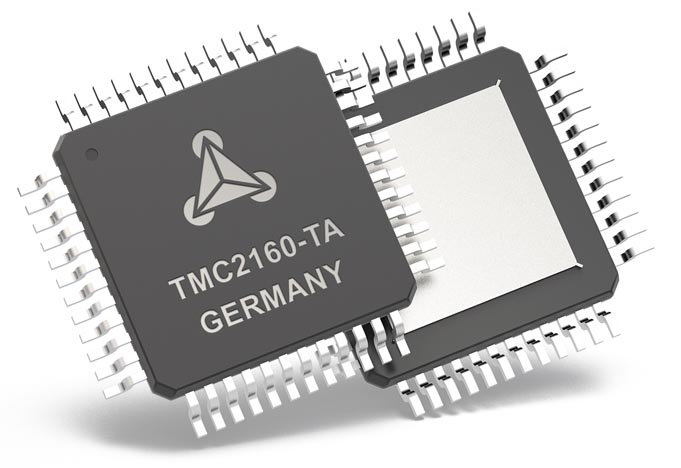 The integrated stepper motor driver is suitable for supply voltages of 8 V to 60 V and drives N-channel MOSFETs with gate currents of up to 500 mA allowing for driver stages of +20 A with latest MOSFET components.
The component is controlled via Step and Direction Interface and can be used standalone with industry typical motion controllers generating step signals. The step pulse interpolator MicroPlyer allows for high resolution 1/256 microstepping using 1/16 step pulses or even lower.
Via SPI or single wire UART interface a full set of diagnostics is available as well as all latest Trinamic current control technologies. Both totally silent positioning using the improved StealthChop2, that includes an improved model based current controller and the for superfast positioning mode are supported. Sensorless load detection or homing is possible using StallGuard2.
The driver ensures absolutely noiseless operation combined with maximum efficiency and best motor torque. High integration, high energy efficiency, and the small form factor (9 × 9 mm) enable miniaturized and scalable systems for cost-effective solutions.
The TMC2160 comes in a TQFP48 package.

TMC2160 Block Diagram.
Features and benefits:
2-phase stepper motor driver up to 20 A coil current (external MOSFETs)
8…60 V DC voltage range
Step/Direction and SPI interface
256 times microstepping
Passive braking
Resonance dampening for mid-range resonances
SpreadCycle, DcStep, Stallguard2, and CoolStep technologies
Compact TQFP48 package