Holtek is delighted to announce the release of its new Sub-1 GHz Superheterodyne OOK high performance RF receiver ICs, the BC2302A and BC2302B. The BC2302A, which operates in the 300 MHz~450 MHz bands, and the BC2302B, which operates in the Sub-1 GHz bands of 300 MHz~935 MHz, both operate within the ISM license-free frequency bands. The RF characteristics of the devices are also compliant with ETSI/FCC specifications. Other features include requiring a minimal number of antenna matching components and excellent stability make these devices suitable for use in mains or battery powered wireless receiver products such as RF wireless ceiling lamps, wireless doorbells, rolling doors, smart home appliances and many other wireless products.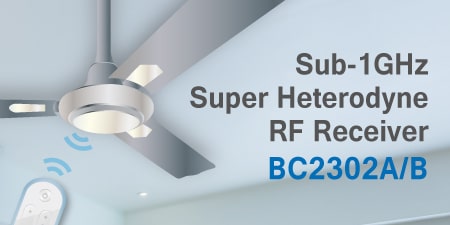 The devices have a wide operating voltage range of 2.5 V~5.5 V, low receiving current of 3.2 mA in the 433 MHz frequency band, a high receiving sensitivity of up to –110 dBm at a 25 ksps data rate, a maximum transmission rate of 25 ksps and a low power down current of less than 1 µA.
The devices can directly work to receive RF independently after a power on reset operation without other configurations or can be connected to an MCU via their integrated I2C interface to configure certain parameters such as the frequency band selection, before activating the RF receiver. The devices support a 16 MHz external crystal oscillator and have integrated auto calibration and auto gain control functions for auto compensation and adaptation to the operating environment. The devices have an operating temperature of –40 °C~85 °C and are supplied in a small 8-pin SOP-EP package type which will meet the requirements of low profile product and receiver module designs.