Holtek announces the release of its low power, high sensitivity RF OOK receiver A/D type SoC flash MCU, the BC66F2430. The device operates in both the 315 MHz and 433 MHz ISM frequency bands, frequencies which are suitable for wireless receiver products such as wireless ceiling fans, wireless doorbells and smart home wireless control applications.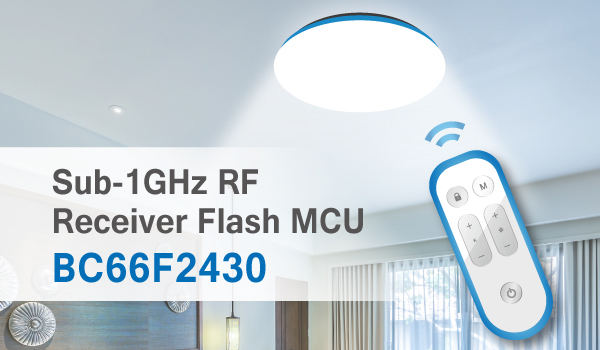 The device includes a Flash Program Memory capacity of 2K×16 bits and a Data Memory capacity of 128 bytes. An internal 64-byte true EEPROM is also provided to store non-volatile data such as application setup parameters. The device has a 10-bit Compact type and 16-bit Standard type Timer Module, dual Time Base functions, a high precision 16 MHz fully internal RC oscillator and a 4-channel 12-bit resolution A/D converter. Additionally there are 4 SCOM outputs which are used to drive LCD displays as well as a Low Voltage Detector and a Low Voltage Reset function.
The device provides up to 17 I/O lines which also incorporate slew rate control functions.
The device includes an integrated a low noise amplifier (LNA), a VCO oscillator, a digital demodulation function and a simplified wireless receiver circuit design. The device has an operation voltage ranging from 4.5 V to 5.5 V, and meets with industrial specifications requirements of –40 °C … 85 °C. It also has low power features and a receiving sensitivity of up to –97 dBm. The device is supplied in 16-pin NSOP-EP and 24-pin SSOP-EP package types, which comply with the requirements of thin wireless products and modules.