The FH52K series can withstand higher operating temperatures than the standard FFC/FPC connectors. The series has an extended temperature range of up to 125 °C compared to the FH52 series. With this heat resistance capability, the connector satisfies the needs of severe automotive requirements.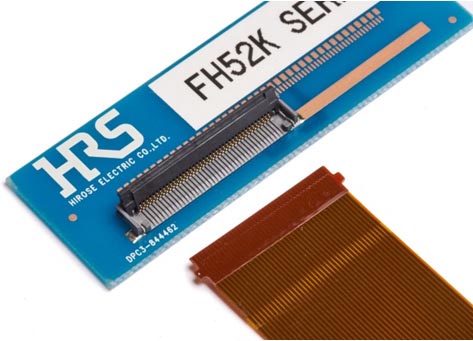 The series can accept a tabbed FFC/FPC and inserting it into the connector is user-friendly due to the wide 110° opening range of the rotating actuator. The actuator is robust and the axle is securely hooked in place from above by the tips on the end of the contacts. This forms a type of hinge to ensure it does not come off under rough operation.
Firm latches within each side of the connector, known as 'side catchers' are provided to guide and hold a tabbed FFC/FPC in place. In addition they provide a high FFC/FPC retention force as they prevent the FFC/FPC from being pulled out easily. A clear tactile click confirms secure lock completion providing overall high connection reliability.
Furthermore, the FH52K series is designed with L-shaped metal fittings to allow visual inspection of the soldering process from the top. Additionally, an enhanced board retention force of approximately 90 N can be achieved.
Automatic mounting is available with a recommended vacuum pick area provided.
Key Features
Number of contacts: 6, 8, 10, 20, 32, 34, 68
Pitch: 0.5 mm
Height: 2.0 mm
Temperature: -40 °C to +125 °C
Current Rating: 0.5A Max
Voltage Rating: AC/DC 50
Mating Durability: 20
RoHS compliant
Halogen Free
Ideal applications are automotive Infotainment, ADAS, industrial machinery, and medical devices, to name a few.