New highly integrated device offers greater protection against voltage fluctuations
Toshiba Electronics Europe announced the launch of a new three-phase brushless motor driver for home appliances such as air-conditioners and air-purifiers. The new TB67B000AHG driver is also suited for use in a wide variety of industrial applications. This high-voltage device extends and expands the existing TB67B000 series of drivers that delivers highly energy efficient motor drive and noise reduction in a single, integrated package.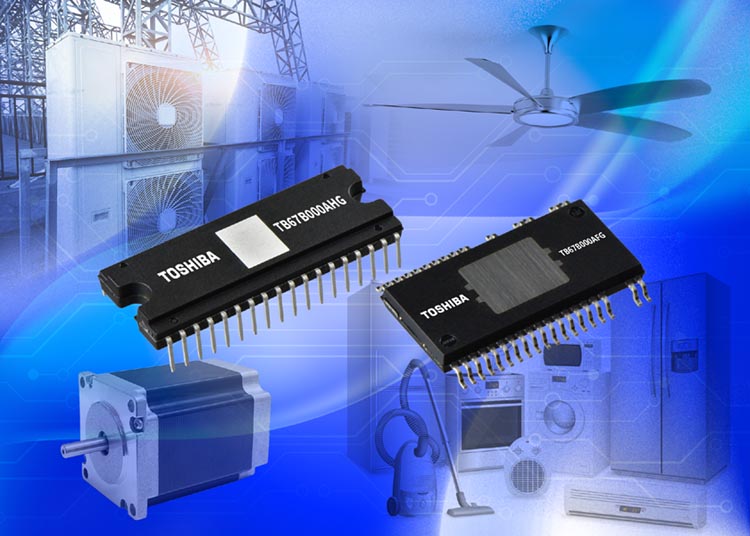 Demand is growing for high-efficiency three-phase brushless fan motors that reduce energy consumption and, particularly in emerging economies, can manage fluctuations in the supply voltage. These applications require higher-voltage PWM driver ICs to maintain high product reliability.
Toshiba's newly developed 600 V TB67B000AHG driver IC is pin-compatible with the current 500 V TB67B000HG and can easily be used as a replacement or upgrade to provide greater resilience to voltage fluctuations. The motor drive output can generate either sine-wave PWM signals or wide-angle trapezoidal commutation at frequencies between 14 kHz and 23 kHz, thereby achieving low-noise, low vibration operation. The device integrates a 600 V/ 2 A IGBT three-phase bridge and motor control IC into a 32.8 mm × 13.5 mm HDIP30 package, saving board space and system cost. Error detection functions including a current limiter, thermal shutdown, under voltage lockout (UVLO) and motor lock detection are also integrated in the compact package.
As modern applications benefit from saving space as well as efficient operation, Toshiba is also developing another 600 V driver (TB67B000AFG) that is housed in a small 34-pin HSSOP package that includes a heat sink.