Analog Devices introduced the LTC7804, a high performance synchronous boost DC/DC switching regulator controller that drives an all N-channel power MOSFET stage. Synchronous rectification increases efficiency, reduces power losses and eases thermal requirements. A constant frequency current mode architecture allows a phase-lockable switching frequency of up to 3 MHz. The LTC7804 operates from a wide 4.5 V to 40 V input supply range. When biased from the boost converter output , the LTC7804 can operate from an input supply as low as 1 V after startup.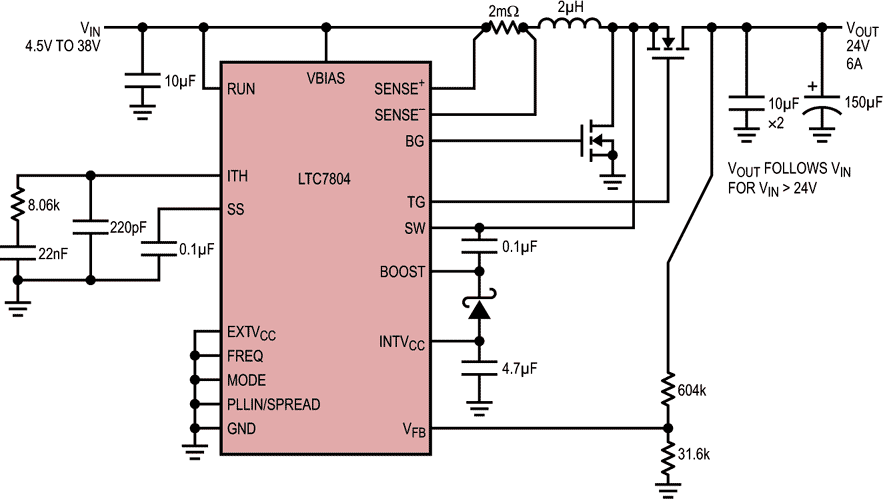 Typical Application.
The very low no-load quiescent current extends operating runtime in battery powered systems. OPTI-LOOP compensation allows the transient response to be optimized over a wide range of output capacitance and ESR values. The MODE pin selects among Burst Mode operation, pulse-skipping mode, or continuous inductor current mode at light loads.
The LTC7804 additionally features spread spectrum operation which significantly reduces the peak radiated and conducted noise on both the input and output supplies, making it easier to comply with electromagnetic interference (EMI) standards.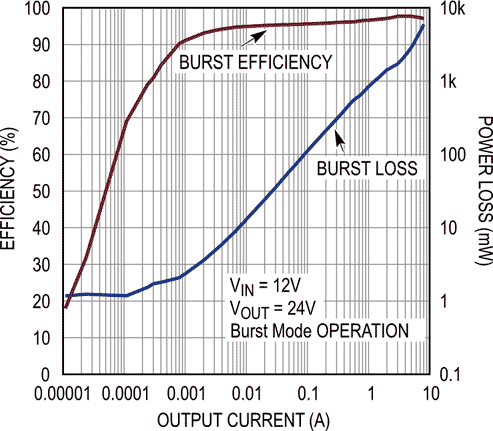 Efficiency and Power Loss vs Output Current.
Features
Synchronous Operation for Highest Efficiency and Reduced Heat Dissipation
Wide VIN Range: 4.5 V to 40 V and Operates Down to 1 V After Start-Up
Output Voltage Up to 40 V
Low Operating IQ: 14 μA
Spread Spectrum Operation
Pass-Thru/100% Duty Cycle Capability for Synchronous MOSFET
RSENSE or Inductor DCR Current Sensing
Programmable Fixed Frequency (100 kHz to 3 MHz)
Phase-Lockable Frequency (100 kHz to 3 MHz)
Selectable Continuous, Pulse-Skipping, or Low Ripple Burst Mode® Operation at Light Loads
Low Shutdown IQ: 1.2 μA
Thermally Enhanced 16-Pin 3 mm × 3 mm QFN and MSOP Packages
Applications
Automotive and Transportation
Industrial
Military/Avionics
Telecommunications