Paul Buckley
Silicon Labs' new Si4830 AM/FM receiver IC reduces product design time and system cost and streamlines manufacturing for a wide range of radio products such as portable radios, boom boxes, clock and lamp radios, toy radios and give-away radios.

The Si4830 claims to be the industry's first CMOS wheel-tuned AM/FM radio receiver IC, offering a full AM/FM radio from antenna input to audio output in a single small chip. The device's high level of integration reduces the existing solution component count by more than 80 percent. Using the Si4830 eliminates the need for external microcontrollers, AM/FM filters, tuning inductors and other components, reducing material and labor costs. Developers need only add an antenna, mechanical-tuning and off/on volume wheels, amplification and two AAA batteries, and the Si4830 receiver becomes the platform for a low-cost radio design.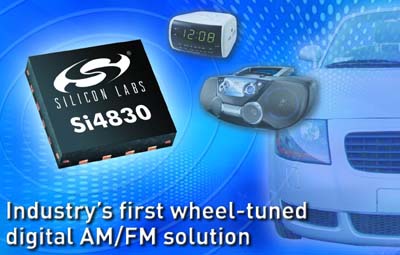 The Si4830 AM/FM receiver targets radio manufacturers worldwide, especially those based in China. The world's manufacturing center for AM/FM radios using traditional analog technology, China still produces more than 100 million analog radio units per year for worldwide shipment. These analog-intensive radio designs typically require dozens of discrete components and undergo significant rework and manual tuning during manufacturing and assembly. The Si4830 requires only twelve surface-mount components within a compact, 20 mm-squared single-side board area. This small design and simple board configuration further reduce cost and enable AM/FM functionality to be propagated into even more end products.
"Many manufacturers of mechanically tuned AM/FM radios have had no alternative to the labor-intensive, discrete method of building and manufacturing low-cost radios," said Dave Bresemann, vice president of Silicon Labs' broadcast products. "Our mixed-signal Si4830 receiver makes cutting-edge digital radio technology available to the analog, mechanically tuned radio market, creating new opportunities for customers to reduce manufacturing cost and add AM/FM radio functionality to a variety of consumer electronics products."
The Si4830 supports European EN55020 compliance and delivers simple, accurate and reliable tuning for worldwide FM bands from 64-108 MHz and AM bands from 520-1710 kHz.
Availability and Pricing
The Si4830 AM/FM receiver is available and priced at 2.10 US D ollars in 10K quantities in a 24-pin SSOP package. The Si4830-DEMO demonstration kit, designed to speed product evaluation and development, is available for a suggested retail price of 50.00 US Dollars.