LEDs Magazine
or the second time this month, Li-Fi has landed in the classroom, transmitting internet to pupils via infrared rather than via Wi-Fi's radio frequencies. This time, four elementary schools in Belgium have gone for it, and in so doing, have provided the industry some lessons on Li-Fi practicalities.
Three schools in Brussels, Flobecq, and Wanze have installed TruLi-Fi 6002 systems from Signify. The fourth school, in Aubange, is expected to do the same soon.
In all four instances, the schools are dispensing with transmitting via visible light from luminaires. Instead, all four are using infrared (IR), part of the nonvisible spectrum of longer wavelength frequencies beyond visible red.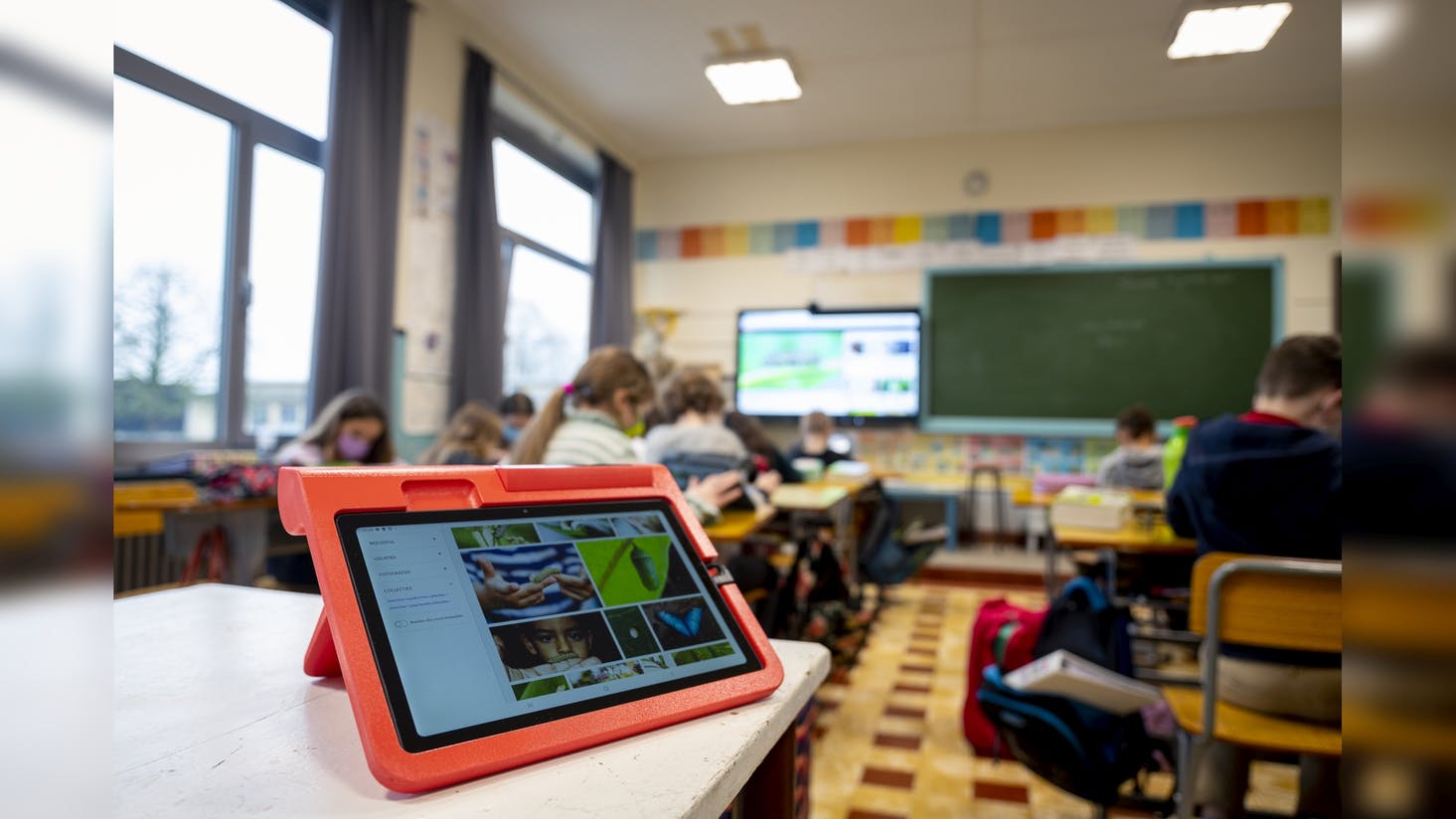 The tablet in the foreground would require a Li-Fi dongle to receive infrared signals traveling from
transmitters attached to the ceiling luminaires in this classroom in Flobecq.
Signify shifts to infrared
Although visible light is indeed one way to transmit Li-Fi to computers and gadgets, Signify for one has now switched exclusively to offering IR only, the company told LEDs Magazine. It began the shift from visible LEDs to IR LEDs when it introduced TruLi-Fi 6002 in June 2019.
Prior to that, the company used visible light for the downlink from luminaire to laptop, and IR for the return uplink to the luminaire, which is itself connected to an internet feed. For Signify, IR supports faster speeds than the company's previous visible light systems, although Signify said at the time of the 6002 introduction that it was tapping IR not for the speed benefit but because it facilitated easier driver engineering. TruLi-Fi can operate at up to 220 Mbps for the downlink and 160 Mbps for the uplink. The Belgian schools are using 160 Mbps in both directions, the spokesperson said.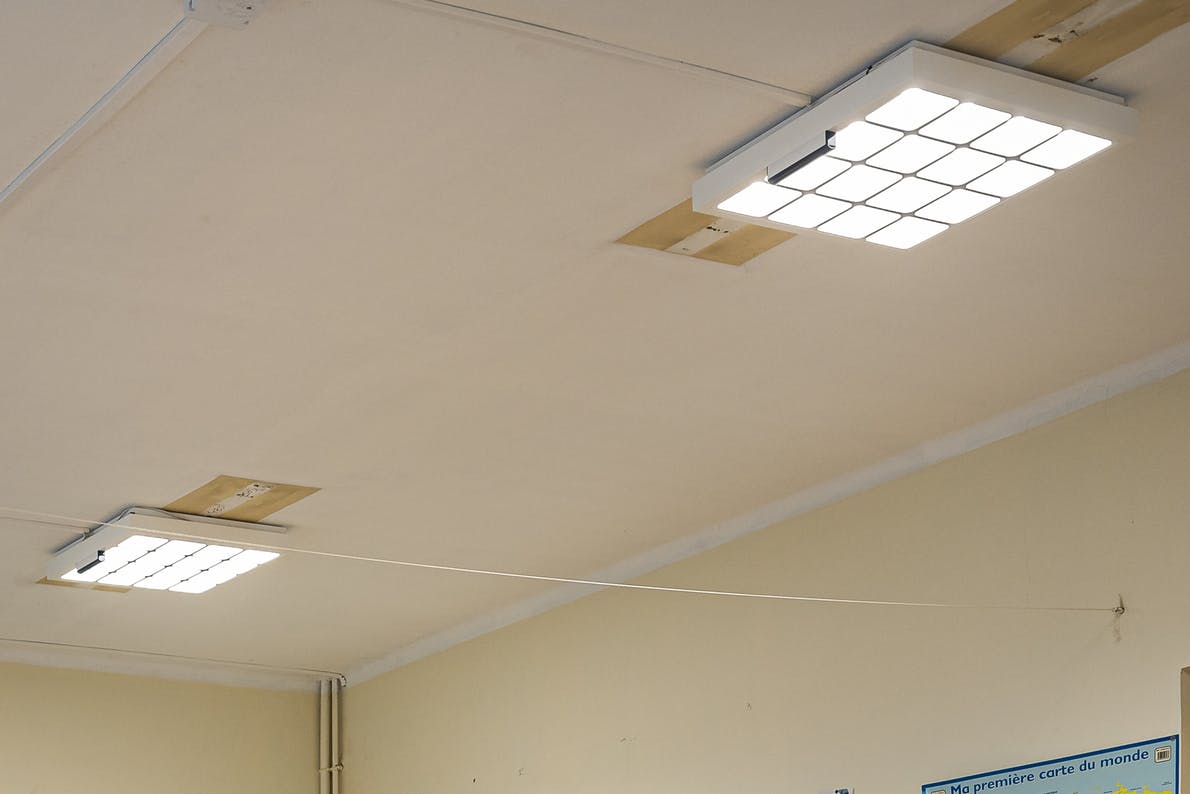 The school in Flobecq is using Signify LED luminaires for illumination, with infrared transmitters plugged
into them for Li-Fi. The transmitters are the black-edged units in one of the sides of each luminaire.
However, the school administrators had to make their own decisions as to whether or not they would involve any illumination at all. Signify offers its 6002 downlink transmitters in two optional forms – as a snap-in addition to Signify luminaires or on their own, with no luminaires.
"The systems [TruLi-Fi 6002] at some of the schools combine lighting and Li-Fi transceivers in one, others have Li-Fi only," a Signify spokesperson told LEDs.
Like Lawrence Woodmere, the Belgian schools are believed to be using a mix of both Li-Fi and Wi-Fi. If nothing else, Li-Fi can help to relieve the saturated Wi-Fi spectrum. Its supporters also point out that it is more secure than Wi-Fi because it requires direct line of sight and it doesn't cause electromagnetic interference the way Wi-Fi can.
LEDs vs. lasers? – To be determined
Some Li-Fi supporters maintain that it is faster than Wi-Fi, although speeds can vary depending on the environment and application.
Li-Fi is potentially in for a big speed boost if laser chips replace LEDs. Kyocera SLD Laser demonstrated its fastest-ever laser Li-Fi system earlier this month at the CES consumer electronics show in Las Vegas.
Is Signify working on laser Li-Fi? The spokesperson would neither confirm nor deny.
"We continuously work on developments and new innovations in the field of Li-Fi, so we can better serve the interests of our customers," he said. "We only communicate about those developments when they result in applications that we can provide to our customers."
Li-Fi has been slow to catch on in general, in large part because most end-user device makers have not embedded the technology in their wares. That means users generally have to attach dongles to tablets, laptops, and the like, sometimes via a direct USB stick and sometimes via a USB cable.
In Belgium, Signify worked with Belgian startup Li-Fi Solutions in providing end-to-end equipment including the dongles.