Halo Microelectronics announces the launch of its I2C controlled single-cell battery charger with two LDOs.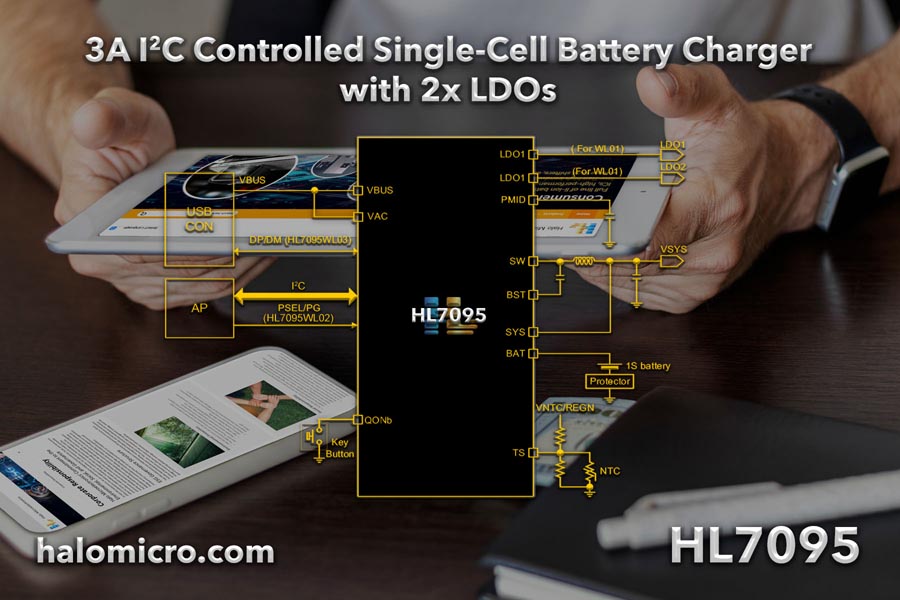 The HL7095 is an advanced I2C interface switch-mode Li-ion battery charger featuring power FETs, power-path management, and a reverse boost function. It's a fully integrated solution designed for use in a wide range of devices, including wearables, smartphones, tablet computing, power banks, and other portable electronics.
The versatile HL7095 is compatible with both single-cell and multiple-cell in parallel Li-ion and Li-polymer batteries. Its switch-mode operation and low-resistance power path ensure optimal charging, discharging, and boost efficiency, shortening battery charging time and prolonging battery life during discharge.
The HL7095 supports various input sources, such as standard USB host ports, USB charging ports, and AC-DC adapters. It accepts input voltages ranging from 3.9 V to 12 V, enabling it to power up the system rail without the need for a battery.
The HL7095 can autonomously manage the full charging cycle of a Li-ion battery, with or without an I2C host. It efficiently detects battery voltage and follows four charging phases: trickle charge, pre-charge, constant current, and constant voltage.
The HL7095 offers enhanced convenience and versatility with its reverse boost function, providing a programmable 4 V to 10.3 V output at VBUS/PMID. This supports USB OTG mode and accessory mode, enabling the battery to supply up to 1 A load current. Furthermore, it features two LDOs to power accessories like headsets or LEDs under the accessory mode, using either VBUS via QRB or directly from PMID through reverse boost.