Following on from the successful release of their HT82K9xx and HT82M9xx low speed USB devices, Holtek now announces the release of its new HT82Bxx device range offering the advantages of increased functional integration and low cost. Another major advantage of these devices is the inclusion of a fully integrated system oscillator circuit, the design of which has already achieved successful patents in the US and Taiwan. These advantages combine to offer a device range with increased performance/price ratios in the marketplace.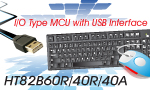 The HT82Bxx MCUs have already passed USB-IF Compliance Testing – USB 2.0 Report for Low speed Device. These devices include a 12MHz internal high speed oscillator that eliminates the need for external oscillator components while the internally generated V33O reference voltage, which can supply up to 70mA, also further reduces the need for external components. Both features combine to offer the advantage of reduced PCB areas and reduced component count. Additionally, the selectable I/O power supply for Port B also provides users with higher I/O interfacing flexibility. Although functionally similar, the HT82B60R and HT82B40R are OTP memory type devices while the HT82B40A is a Mask memory type device.
Features
Operating voltage:
Low voltage reset function
42 bidirectional I/O lines (max.)
8-bit programmable timer/event counter with overflow interrupt
16-bit programmable timer/event counter and overflow interrupts
Watchdog Timer
PS2 and USB modes supported
USB 2.0 low speed function
4 endpoints supported -- endpoint 0 included
8192×16 program memory
216×8 data memory RAM
Integrated 1.5kW resistor between V33O and USBPDN pins for USB applications
Fully integrated 6MHz or 12MHz oscillator
All I/O pins have wake-up functions
Power-down function and wake-up feature reduce power consumption
Serial Interface Module -- I2C and SPI functions
4 COM lines for LCD display driving
External interrupt pin
8-level subroutine nesting
Up to 0.33us instruction cycle with 12MHz system clock at VDD=5V
Bit manipulation instruction
15-bit table read instruction
63 powerful instructions
All instructions in one or two machine cycles
20/28/48-pin SSOP, 32-pin QFN packages
The HT82Bxx series device can be used in applications which require USB +PS/2 interfaces, for example PC peripheral keyboards, mouse products, joysticks, Game Pads, USB wireless receivers and other USB interface consumer products, etc.
To support these new devices, Holtek supplies a full suite of hardware and software tools which include an In-Circuit-Emulator, device writers as well as a Windows based software development system environment, known as the HT-IDE3000. This system includes hardware breakpoints with logical setups, full trace analysis functions as well as many other functions, all of which combine to ensure that users have their designs up and running as quickly a possible.
The HT82B40R/HT82B40A devices are supplied in five package types, namely 20/28/48-pin SSOP and 20/32-pin QFN package forms, while the HT82B60R is supplied in four package types, namely 20/28/48-pin SSOP and 32-pin QFN package forms. All types are available as customer samples or as volume orders.