CML Microcircuits has announced the addition of a new PMR Audio and Data Processor, the CMX148, to its family of analogue two-way radio ICs. This device is intended for use in general leisure and professional PMR terminals, particularly enhanced MURS/GMRS/FRS with GPS terminal designs.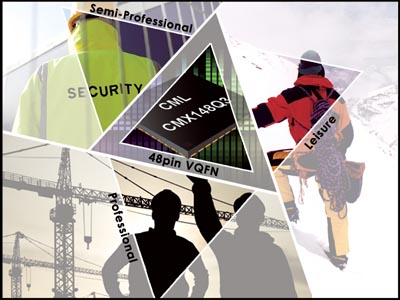 The new CMX148 provides maximum support to systems where the sub-audio signalling is managed within the microcontroller.
Features:
Concurrent Audio/Signalling/Data Operations
Complete Audio-band Processing including Compandor
Programmable Voice Scrambler
MSK/FFSK Data Modem with Packet and Freeformat Modes with FEC, CRC, Interleaving and Scrambling
DTMF and Audio Tone Encoder/Decoder
Sub-audio Signalling Filters for CTCSS and DCS
Routing for Host µC Signalling
For a datasheet and product support information, please visit www.cmlmicro.com
To download the accompanying hi-res product image, please click this link.