STMicroelectronics today announced that the roadmap for its breakthrough STM32 family of 32-bit MCUs based on ARM Cortex-M processor cores is to include new devices centered on the Cortex-M4 and the Cortex-M0 cores from ARM. In addition, ST also announced today availability of its new STM32 F-2 series MCUs that fully unleash the performance of the Cortex-M3 core.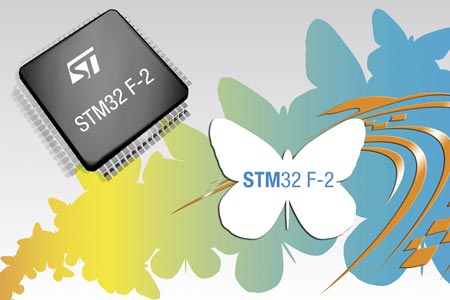 New Cortex-M MCUs
The Cortex-M4 from ARM is an upwardly compatible version of the Cortex-M3, offering DSP instructions and a Floating Point Unit (FPU). The core will be used in new high-performance variants of STM32 products to be sampled in 2011. The STM32 portfolio will be further enriched for highly cost-sensitive applications with a new series, also sampling in 2011, currently being developed around the Cortex-M0.
"It is our intention to remain the undisputed leader in ARM Cortex-M MCUs and offer the broadest portfolio of ARM Cortex-M microcontrollers in the industry," said Michel Buffa, General Manager of ST's Microcontroller Division. "The Cortex-M4 and Cortex-M0, in combination with our leading-edge embedded Flash and ultra-low-power technologies, will join the Cortex-M3 core MCUs to allow ST to significantly expand its STM32 offering to meet every application need in performance, features and pricing."
All future STM32 Cortex-M4 and -M0 based MCUs will remain fully pin- and software compatible with each other and the STM32 Cortex-M3 devices. In addition, they will benefit from the same tool and software ecosystem, allowing seamless moves within the full STM32 product range.
New STM32 F-2 Series
ST's new leading-edge STM32 F-2 microcontroller series combines ST's advanced 90nm process technology with the Company's innovative Adaptive Real-Time memory accelerator (ART Accelerator™) to unleash the Cortex-M3 core's maximum processing performance. The STM32 F-2 MCUs achieve leading-edge performance of 150 Dhrystone MIPS when executing code from Flash at 120MHz, which is the maximum performance possible from the Cortex-M3 processor at this frequency. The series also offers CoreMark-confirmed 188uA/MHz dynamic power consumption, when executing from Flash, equivalent to drawing 22.5mA at 120MHz. In addition to offering on-chip memory densities that are among the highest of any Cortex-M3 based MCUs available, the new series provides enhanced support for imaging, connectivity, security, audio and control applications.
For many applications, the STM32 F-2 MCUs offer the perfect balance between performance, dynamic power consumption and cost, which has been confirmed with the news that more than 20 of ST's customers are currently ramping up manufacturing of new products enabled by this new STM32 family.
"This series is a major addition to the STM32 platform and reinforces ST's leadership in the market for Cortex-M3 MCUs," added Buffa. "ST's proprietary 90nm process and the development of the ART Accelerator enable perfectly optimized processor-memory interactions with a performance equivalent to zero wait states, taking the performance of the Cortex-M3 core to its natural limits."
The addition of more than 30 new devices in the F-2 series brings the total number of STM32 microcontrollers to 180 pin- and software-compatible devices sharing a common pool of peripherals, and delivering the advanced performance, high efficiency and convenience of the industry-standard Cortex-M3 processor.
Production samples of the STM32 F-2 series are available now to OEM customers with widely availability in Q1 2011. Prices for the STM32-F2 series begin from $3.18 for the STM32F205RBT6 with 128 Kbytes of Flash and 64 Kbytes RAM in the LQFP64 package, for orders of more than 10,000 units.