Texas Instruments expanded its 1.8-V precision operational amplifier portfolio with a new line of op amps for low-noise, high-impedance sensor measurement. The first product in the OPAx320 family, the two-channel OPA2320, provides 20 MHz of gain bandwidth and 0.2 pA input bias current (Ib) to enable very high accuracy and dynamic range for high-impedance optical and chemical sensor front ends, programmable logic controllers, motor control loops, and test and measurement equipment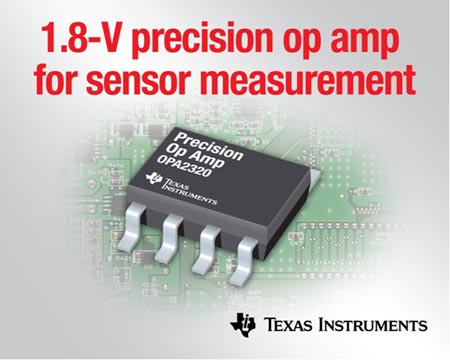 Description
The OPA320 (single) and OPA2320 (dual) are a new generation of precision, low-voltage CMOS operational amplifiers optimized for very low noise and wide bandwidth while operating on a low quiescent current of only 1.45mA.
The OPA320 series is ideal for low-power, single-supply applications. Low-noise (7nV/√Hz) and high-speed operation also make them well-suited for driving sampling analog-to-digital converters (ADCs). Other applications include signal conditioning and sensor amplification.
The OPA320 features a linear input stage with zero-crossover distortion that delivers excellent common-mode rejection ratio (CMRR) of typically 114dB over the full input range. The input common-mode range extends 100mV beyond the negative and positive supply rails.
Device Uses
High-Z Sensor Signal Conditioning
Transimpedance Amplifiers
Test and Measurement Equipment
Programmable Logic Controllers (PLCs)
Motor Control Loops
Communications
Input/Output ADC/DAC Buffers
Active Filters
Features
Precision with Zero-Crossover Distortion:

Low Offset Voltage: 150µV (max)
High CMRR: 114dB
Rail-to-Rail I/O

Low Input Bias Current: 0.9pA (max)
Low Noise: 7nV/√Hz at 10kHz
Wide Bandwidth: 20MHz
Slew Rate: 10V/µs
Quiescent Current: 1.45mA/ch
Single-Supply Voltage Range: 1.8V to 5.5V
OPA320S, OPA2320S:

IQ in Shutdown Mode: 0.1µA

Unity-Gain Stable
Small Packages: