Sony ExViewHAD Progressive Scan CCD
Up to SXGA (1280×960) resolution at 12.5 fps
Up to 0.003 Lux minimum scene illumination at F1.2, 50 IRE, Slow Shutter
Mechanical IR cut filter
Frame integration mode
MPEG-4/MJPEG compression
Backlight compensation
Built-in hardware motion detection
Alarm input/output
Two-way audio transmission
Recording to SD card
Power supply: 12 VDC / 24 VAC / PoE
Service monitor output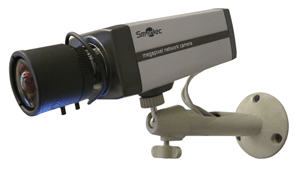 The STC-IPM3096A features Sony ExViewHAD Progressive Scan megapixel CCD, providing substantial improvement of several characteristics, including minimum scene illumination, signal to noise ratio and color rendering. SXGA image resolution allows to use the STC-IPM3096A in applications where image detail is critical, while electronic zoom feature serves for visual enlargement of certain image areas.
Day-and-Night Surveillance
STC-IPM3095A cameras feature software Day/Night mode, while the STC-IPM3096A series are equipped with mechanical IR cut filter, allowing to use the cameras in low light environment. All cameras in the series support manual setup of luminance threshold (3 levels) for automatic camera switching from color to B/W mode. To avoid spontaneous switching between day and night operation modes, STC-IPM3095A/STC-IPM3096A allow to set 5, 10, 15, or 30 sec. switching delay.
To improve video quality in extremely low light environment, Slow Shutter mode is offered, when the camera automatically selects frame integration factor up to 4 seconds. A special external input is provided for synchronization of STC-IPM3096A switching to B/W mode with IR illuminator activation.
Simultaneous MPEG-4 or M-JPEG Video Streaming
The STC-IPM3096A supports simultaneous transmission of two MJPEG and MPEG4 video streams. In MJPEG all camera resolutions are supported, including megapixel SXGA (at 12.5 fps), with adjustable video compression ratio. MPEG4 allows to use VGA or QVGA resolution and frame rate of up to 25 fps.
Camera Response to Motion or External Sensor Alarm
The built-in motion detection has three sensitivity levels, with detection area configurable using 8х6 grid. When motion detection or alarm sensor is activated, the STC-IPM3096A can trigger video recording to remote server or SD card, enable alarm device, send alarm notification and video to specified e-mail addresses or FTP server.
Hybrid Power Supply and Two-way Audio
The STC-IPM3096A cameras allow to select any of the three offered types of power supply: 12 VDC, 24 VAC, or PoE technology. Since each STC-IPM3096A is equipped with audio input and output, full duplex two-way mono audio connection with the controlled area can be easily arranged.
Video Recording to SD Cards
SD memory card slot allows to record up to 2 GB of information directly from the camera without use of any accessories. The card can be used to record alarm video segments as well as pre-alarm and post-alarm video. The IP camera allows to set up card overwrite mode as well as FTP server information backup.
IP Video Viewing and System Administration
Since the STC-IPM3096A is equipped with a built-in web server, you can view its video on any networked PC in a standard web browser window. To build IP video surveillance systems, NetStation video management software is recommended, which allows to provide remote video surveillance and supports eMaps, multichannel video recording, search and playback, as well as PTZ control.