Intersil introduced two mini power management ICs. The ISL9305 and ISL9305H are ideally suited to meet the demands of today's mobile consumer applications by providing high power density with the added programming flexibility of an I2C interface.
The ISL9305 and ISL9305H combine two 800mA (ISL9305) or 1500mA (ISL9305H), synchronous step-down regulators and two 300mA low dropout linear regulators in a compact 4x4mm package. The devices' integration reduces total component count and overall solution cost.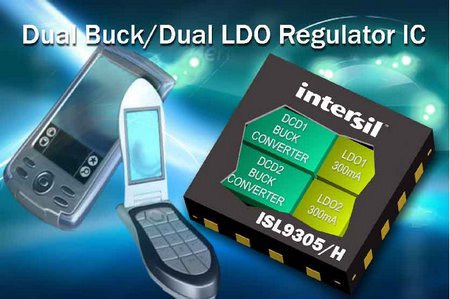 By using a 3MHz PWM switching frequency, system designers can select smaller external components, further reducing board space. Both devices have been designed with low output ripple and tight voltage regulation for noise sensitive circuits such as audio and RF circuitry. These features reduce the amount of filtering necessary on both the inputs and outputs of the regulators.
To maximize efficiency and battery life, the ISL9305 and ISL9305H operating modes can be programmed via the I2C interface. For noise sensitive applications, the regulators can be programmed to operate in forced-PWM mode regardless of the load current. Both DC/DC converters can also be programmed for ultrasonic PFM operation to prevent audible frequencies from disturbing audio circuits.
Features and Specifications
The ISL9305 and ISL9305H LDO input voltage can range from 1.5V to 5.5V, so either LDO can be powered from one of the on-chip step-down regulators or from a variety of supply voltages. The ICs can be ordered with factory pre-set LDO output voltages between 0.9V and 3.6V in 100mV steps. The LDO voltages can also be reprogrammed to one of 55 voltage levels in 50mV increments through the I2C interface.
The switching regulators each offer 112 steps of DC voltage programmability from 0.825V to 3.6V in 25mV steps.
Pricing and Availability
The ISL9305 and ISL9305H are available now in a 4x4mm 16-pin TQFN package and are priced at $2.10 and $2.20, respectively, in 1,000-unit quantities.