Highly featured ballast controller is first to support choice of standard or low-cost power circuitry to boost adoption of high-efficiency electronic ballast in cost-sensitive markets
With today's worldwide energy-saving regulations demanding the more efficient use of available energy, STMicroelectronics has unveiled a new ballast controller capable of reducing design time and costs. The new IC will fulfill the requirements of energy-saving regulations such as ENERGY STAR and will significantly contribute to optimization usage of available energy, dramatically reducing the CO2 emission.

Lighting accounts for up to 19% of the overall electricity consumption in the world, according to figures from Energy Information Administration - EIA - Official Energy Statistics from the U.S. Government. Private and public organizations are looking towards incentives, standards and regulations for improved energy efficiency. In this scenario, high-frequency electronic ballasts are rapidly replacing electromagnetic ballasts due to higher efficiency, no visible flickering, and low weight due to the use of electronic components.
ST's new L6520 controller is the first device to give the choice of using low-cost bipolar power switches without compromising reliability, ensuring high-energy efficiency and integrating important features on-chip to save design time and cost, while reducing Bill-of-Materials costs.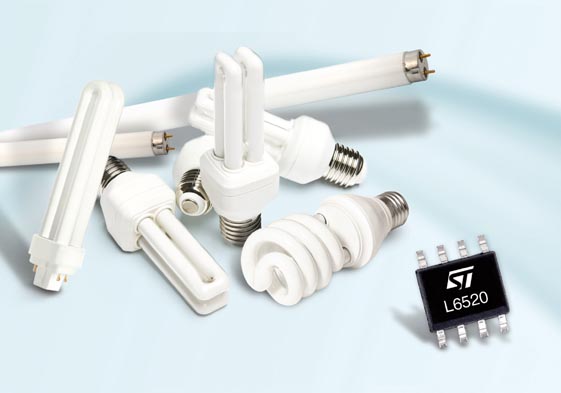 The IC can be used with a wide range of lamp topologies, power ratings and has an extended temperature range from -25 °C up to 85°C. Hence manufacturers can reduce design and procurement costs for products covering a range of performance and price points.
The L6520 embeds a digital control core, integrating all functions and protection, saving as much as 30% of the external components required with alternative controllers. Integrated features include lamp end-of-life, and due to ST's proprietary current control circuit, the IC is protected against over-current and over-voltage, choke saturation and hard switching. Accurate and programmable pre-heating improves lamp life, while BJTs storage time compensation avoids the risk of cross-conduction and makes the application more robust.
The devices join ST's family of energy-saving ballast ICs, which includes the L6574 with circuitry for controlling dimmable ballast and CFLs, and the L6585DE with built-in power-factor correction for use in high-end applications.
Major features:
Digital control core allows a high level of integration
Accurate and programmable preheating time to improve lamp life
ST's proprietary current-control circuit featuring over-current, over-voltage, choke-saturation control and hard switching protection
Storage-time compensation circuitry for bipolar transistors enhance robustness
Lamp end-of-life
Compatible with series or parallel lamp topologies and different power ranges
Extended temperature range from -25 °C up to 85 °C.
Preheat duration for different lamps and international norms:

L6520: 1.5 seconds preheat
L6521: 0.8 seconds preheat
The L6520/1 is in volume production in the industry-standard SO-8 package, priced at $0.70 for 1000 units. Alternative pricing options are available for larger orders.