Renesas Electronics, a premier provider of advanced semiconductor solutions, today announced the availability of five 16-bit microcontrollers (MCUs), the RL78/I1A family, that implement in a single chip the LED control, power supply control, and communication functions required in LED lighting fixtures. The new MCUs adopt the Renesas Electronics RL78 CPU, which achieves both high computational performance and ultra low power consumption, and include from 32 to 64 kilobytes (KB) of flash memory in 20 to 38-pin package versions. These devices achieve 20 percent reduced power consumption during normal operation over the Renesas Electronics' existing 78K0/Ix2 products.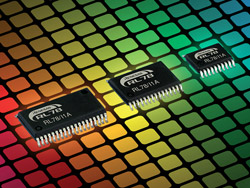 LED lighting, which features low power consumption and long lifetimes, is the focus of attention as an effort to reduce CO2 emissions on a global scale. LED illumination is becoming increasingly widely used in industrial and commercial facilities, in streetlights, and in home lighting. The global market for LED lighting equipment is expected to grow rapidly from the roughly 20 million units sold in 2009 to over 400 million units in 2014.
Given this background, Renesas Electronics has added the high-performance, ultra-low power 16-bit RL78/I1A family of MCUs to its existing 8-bit MCU lineups for use in lighting ballasts. The RL78/I1A family addresses the need of a variety of lifestyles for lower cost, high-color dimming and color temperature control. The RL78I1A supports lighting communication standards for centralized control in buildings and offices.
Key features of the RL78/I1A MCUs:
Improved PWM output function for fine-grained dimming and color temperature adjustment
These new lighting MCUs provide six high-resolution PWM outputs that are capable of supporting an average resolution of 0.97 ns. This allows dimming and color temperature adjustments about 25 times more precise than 78K0/Ix2 products. These new MCUs also include a new PWM output on/off control timer that allows them to support either current or PWM-based dimming adjustment.
Furthermore, these devices also include a PGA (programmable gain amplifier) that can amplify the A/D converter input level by up to a factor of 32 to support high-precision LED current measurement. Not only does this make even finer-grained brightness adjustment possible, it also allows a smaller current measurement resistor to be used, thus contributing to reduced overall system power consumption.
Built-in PFC control function for reduced IC parts counts
These microcontrollers feature a newly included PFC control function that supports interleaved operation for in high-power equipment requiring improved power factors. Since the internal comparators and an interrupt pin are internally interlocked with the PWM timers, this enables efficient PFC control without CPU involvement and eliminates the need for an external PFC control IC.
LED lighting safety functions
The new MCUs provide an overcurrent detection function that uses comparators (including window comparators that allow both upper and lower limits to be set) for overvoltage and overcurrent detection and stops PWM timer output automatically. This function can prevent breakdowns in lighting fixtures..
Furthermore, adopting an architecture that allows different port output states when a forcible output stop occurs to be selected from three types: high-level output, low-level output, or high impedance allows these devices to flexibly support a wide range of protection circuits.
The RL78/I1A MCUs support the IEC60730 European Home Appliance Safety Standard which is necessary for lighting fixtures by including; a FLASH memory CRC (cyclic redundancy check) calculation function, RAM parity error detection function, clock frequency detection function and illegal memory access prevention function.
Lighting communication functions
In addition to CSI, these devices also support the I2C bus and UART (DMX512) standards and even the DALI (Digital Addressable Lighting Interface) open standard for lighting communication which also supports extended DALI frames. Thus they can flexibly support lighting communication needs.
Renesas Electronics positions these new products as devices that support increased functionality in LED lighting fixtures and at the same time contribute to reduced overall system costs. At the same time as promoting sales of these devices aggressively, Renesas Electronics plans to expand their lineup of MCUs that target the rapidly growing LED lighting fixtures market. The company intends to continue to release power supply and illumination solutions that make microcontroller program evaluation and design even easier.