The New RL78/L13 Group Microcontrollers Support Up to 376 Segments and Operate Down to 0.6 µA with Full Calendar Function.
Renesas Electronics announced the RL78/L13 Group of low-power microcontrollers (MCUs) with on-chip LCD controller offering up-to 376 segment drive capability in an 80-pin package. These new MCUs are optimal for consumer, health and industrial equipment that are equipped with an LCD panel.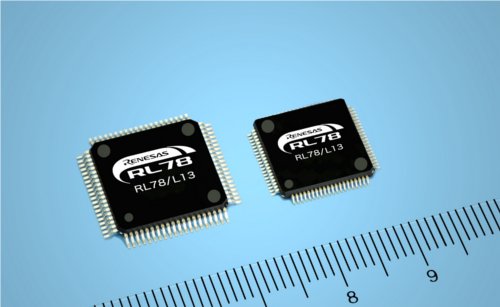 LCD panels are widely used in both consumer and industrial equipment, including home appliances such as washing machines and dishwashers, health equipment such as blood pressure monitors and blood glucose monitors, and portable test equipment and meters. Renesas has already released the RL78/L12 low-power MCUs that reduce power consumption by about 30% compared to earlier Renesas products as on-chip LCD driver MCUs. There is now, however, strong demand for an increase in the number of segments in on-chip LCD driver MCUs to support the large increases of information shown on LCD panels due to needs to display information such as power saving status ecological information and the additional information associated with advanced functionality.
At the same time, the Induction Heating (IH) method is beginning to be widely used in IH cooking equipment, and industrial equipment as well. In this IH heating equipment, high-functionality timers are required to control the IH inverter circuit. Renesas is now releasing the RL78/L13 Group of MCUs to respond to these needs.
Key Features of the RL78/L13 Group of MCUs
Achieves the industry's highest LCD display segment count and contributes to richer information displays using LCD panels
Provides comparators and high-functionality timers to support system control for IH equipment
Provides a high-precision real-time clock (RTC) function that provides a perpetual high-precision RTC counter
In addition, these new products inherit the superlative features of the RL78 Family, such as achieving the industry's lowest levels of power consumption, supporting the IEC 60730 standard, which is a required home appliance safety standard in Europe, and reducing total system costs by taking advantage of on-chip peripheral functions integrated on the MCU. These features allow users to increase end product functionality, reduce system costs, and improve safety.
The RL78/L13 Group of MCUs consists of 24 models in 64-pin and 80-pin packages and flash memory capacities from 16 KB to 128 KB.
Availability
Samples of the RL78/L13 Group of MCUs are scheduled for availability beginning November 2012. Mass production of the RL78/L13 devices is scheduled to begin in February 2013 and is expected to reach a volume of 8,000,000 units per month for the total of the products of the group in August 2013. (Availability is subject to change without notice.)