Contribute to Reduced System Power Consumption with Ultra-low Power and High Performance for Keyless Entry and Other Automotive Control Systems

Renesas Electronics, a premier provider of advanced semiconductor solutions, today announced the availability of 32 new RL78/F12 16-bit microcontrollers (MCUs). These contribute to reduced system power consumption and higher performance for automotive control systems, including keyless entry, power window control, mirror control, and other applications.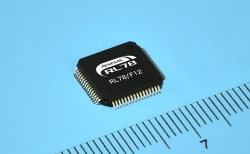 The new MCUs are the first group of devices in Renesas' F Series of automotive products in the new RL78 family that feature industry-leading low power consumption and high performance. The RL78 family combines the superlative technologies of Renesas' main existing products in the 8/16-bit MCU market, the 78K (78K0 and 78K0R) and R8C. It also integrates an extensive set of peripheral functions around the RL78 CPU core, which is based on the low-power/high-performance 78K0R CPU core.
As a result of the growing number and functionality of MCUs in automobiles, there is an increasing demand for MCUs that can provide even lower power consumption, a reduction in printed circuit board mounting areas, and technology to reduce overall system component count. To respond to these needs, Renesas has released the F Series of automotive MCUs in the RL78 family that inherit the excellent features of the earlier Renesas R8C and 78K (78K0 and 78K0R) low-power MCUs which have a proven track record in automotive applications. Aiming at extreme reductions in power consumption, these new products respond to the need for 8/16-bit devices that can reduce total costs across whole system structures.
Furthermore, the trend toward mechatronics, in which electronic control and mechanical components are integrated together, is progressing and the market demands performance when operating at high temperatures, such as in the engine compartment or headlights. At the same time, it is becoming increasingly important to focus efforts on complying with functional safety standards. For this reason, Renesas has included a rich set of diagnostic functions in the RL78/F12 MCUs to support high-temperature operation and functional safety.
Key features of the RL78/F12 MCUs:
The new RL78/F12 MCUs include functions that support internal Flash memory with capacities from 8 to 64 kilobytes (KB); packages from 20 to 64 pins; and the LIN (Local Interconnect Network) specification, which has become the standard in-car network.
Low power consumption and high processing performance contribute to reduced power consumption in applications
Support for low-voltage operation at 1.8 V, effective for applications such as keyless entry
Support for high-temperature operation at ambient temperatures up to 150℃ contributes to integration of mechanical and electronic systems and use of end products at high temperatures
Extensive set of diagnostic functions that support functional safety
The RL78/F12 devices are the first release of the new RL78 family, which will address the majority of the 8/16-bit automotive MCU market. The RL78 family will combine the best legacy features of the 78K and R8C families and will advance the technology needed to meet next-generation automotive requirements.