Diodes announced the industry's smallest, full-featured, single-chip fan driver with high-output drive capability to provide a cost-effective solution for fan and motor drive applications.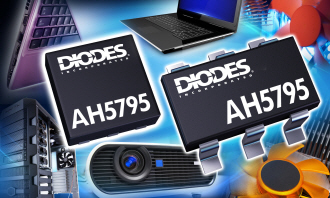 Designed for driving low-power single-phase brushless DC (BLDC) fans and motors, the highly integrated AH5795 can provide an average motor current up to 500mA. Utilizing Diodes' low-profile DFN packaging technology, the AH5795 integrates a high-sensitivity Hall effect sensor, amplifier and an internal H-bridge driver output stage, suitable for single-coil fan motor applications. A PWM speed control pin provides enhanced motor speed control by varying the duty ratio of the PWM signal, in addition to the supply voltage.
The device's operating voltage range is 1.8V to 6V, making it well-suited for low operating voltage BLDC fans that require low-voltage start-up in both VDD and PWM speed control modes. Additionally, the AH5795's bi-directional full-bridge driver uses soft switching to minimize audible switching noise and electromagnetic interference (EMI).
To protect the coil from overheating, the new motor controller includes integrated locked rotor detection and automatic self-restart functions, which serve to shutdown the output driver in the event of a locked rotor and then restart the motor when the rotor is freed. In addition, a tachometer output is provided by an open-drain frequency generator, which allows external speed monitoring. The all-in-one smart motor controller eliminates the need for most external components, including a timing capacitor.
The AH5795 has an extended ambient operating temperature range of –40°C to +105°C, suitable for thermally demanding applications such as enclosed space fan motors.
The AH5795 is fully RoHs complaint with Green molding compound and is available in space-saving low-profile DFN2020-6 and TSOT23-6 packages.