The ISL95210 Provides 0.6% Output Accuracy and Needs No Compensation
Intersil Corporation introduced its newest 10A integrated FET synchronous buck regulator featuring excellent efficiency and power density.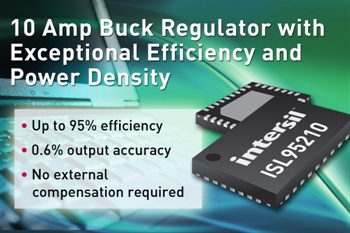 The ISL95210 provides a very dense DC/DC converter solution with up to 45% total area reduction over alternative solutions. The device is a highly efficient, single-output buck regulator that requires only four external components. Intersil's patented R4 control architecture provides exceptional transient response with no external compensation components. The regulator is ideal for wide range of applications including point of load (POL) power supplies for computing and networking infrastructure equipment.
An internal DAC is programmed by two external pins, and allows designers to select from nine different regulator output voltages. Several digital control signals provide flexibility to program switching frequency, switching mode, output voltage margining and a daisy-chained power-good output. The ISL95210 also includes comprehensive internal protection for overvoltage, undervoltage, overcurrent and overtemperature conditions.
Features and Specifications
10A continuous output current
2.97V to 5.5V input voltage range
Up to 95% efficiency
0.6% output voltage accuracy (over temperature)
Excellent transient response without external compensation components
Full power operating in a 90 degree C environment without airflow
Comprehensive protection features
Pricing and Availability
The ISL95210 is available in a compact, 4mm x 6mm, 32-pin QFN package. Pricing starts at $3.25 each in 1,000-piece quantities.