SC563LHULTRC is a Dual Output Low Dropout Regulator in a Tiny MLPD Package
Semtech Corporation announced the SC563, a dual output low dropout (LDO) regulator in a tiny 1.6 mm × 1.2 mm, 8 pin MLPD package.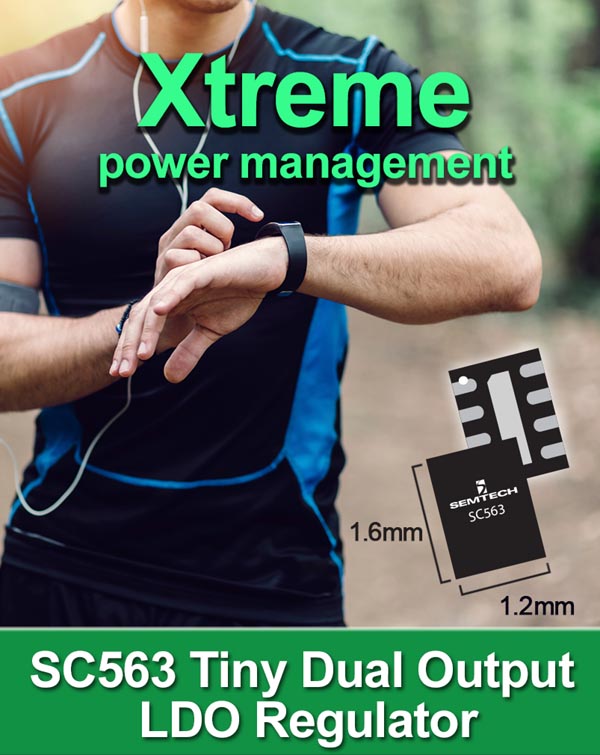 The SC563 LDO provides two regulated outputs for up to 300 mA for each output channel. The LDO accepts an input supply rail of 2.3 V to 5.5 V and provides two fixed, regulated outputs, which eliminate the need for external resistor divider networks. It comes in a tiny 1.6 mm × 1.2 mm, ultra-thin 0.6 mm 8 lead package. The LDO is ESD hardened to greater than 4 kV for robust circuit protection.
Key Features of SC563
VIN Range: 2.3 V to 5.5 V
Two outputs up to 300 mA
Ultra-Low 180 mV Dropout
Integrated output discharge
4 kV ESD Protection
Ultra-small 1.6 mm × 1.2 mm × 0.60 mm, 8 lead MLPD Package
Applications
Portable Applications:
Wearable Electronics, Portable Video Cameras, Smart Phones, Tablets

Non-Portable Applications:
Femtocells, HDTV, Set Top Box, Networking Devices
Pricing and Availability
The SC563 is available immediately in production quantities and is priced at $0.25 each in 3,000-piece reels. The ordering code is SC563LHULTRC for 1.8 V/3.3 V fixed output version. Evaluation boards are also available. Semtech offers comprehensive design assistance, including field- and factory-based support.