Devices Feature Maximum Luminous Intensity of 450 mcd for Colors and 180 mcd for White, With Height Profile of 0.8 mm
Vishay Intertechnology announced a series of super-thin, ultra-bright LEDs in the smallest SMD package. The new VLMx1300 series of LEDs uses an innovative ChipLED technology, paving the way for smaller end products with higher performance, more flexibility in design, and enhanced applications. The 0603 VLMx1300 LEDs will serve in small-scale, high-brightness products that must work reliably in demanding environments.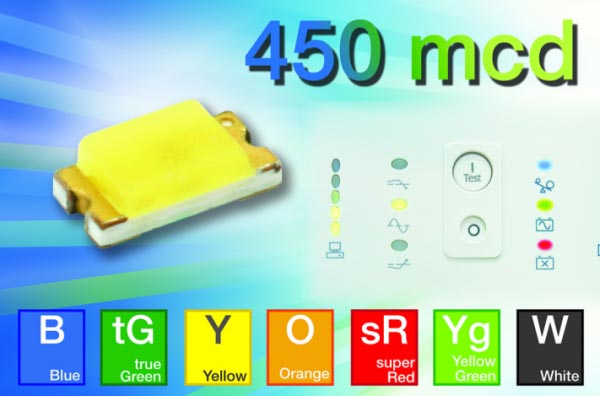 All LEDs in the VLMx1300 series are mounted on highly reliable PCBs measuring 1.6 mm × 0.8 mm × 0.55 mm, and have an extremely wide 130° viewing angle. Available colors include super red, soft orange, yellow, yellow green, true green, blue, and white. Using ultra-bright AllnGaP and InGaN technologies (depending on color), the color LEDs have a luminous intensity as high as 450 mcd at a forward current of 20 mA and a maximum forward voltage of 3.8 V. Blue is available with a protection diode that provides ESD immunity up to 8,000 V. The white LED has a maximum luminous intensity of 180 mcd at a forward current of 5 mA and a maximum forward voltage of 3.15 V. The table below lists characteristics by part number.
Device specifications table
Part

Color

Luminous intensity (mcd)

at IF
(mA)

Technology

min.

typ.

max.

VLMS1300

Super red

18

54

-

20

AlInGaP

VLMO1300

Soft orange

45

90

-

20

AlInGaP

VLMY1300

Yellow

28

-

180

20

AlInGaP

VLMG1300

Yellow green

18

35

-

20

AlInGaP

VLMTG1300

True green

71

-

450

20

InGaN

VLMB1300

Blue

28

-

180

20

InGaN

VLMB1310

Blue

28

-

180

20

InGaN

VLMW1300

White

45

-

180

5

InGaN/yellow converter
The VLMx1300 ChipLED series' low profile, exceptional brightness, and reliability make the color versions ideal for backlight applications including keypads, navigation systems, cellular phone displays, displays for industrial control systems, miniaturized color effects, and traffic displays. The white version works well in backlighting for telephone and fax, audio and video equipment, office equipment, indoor and outdoor message boards, and flat backlight for LCDs, switches, and symbols.
The devices are available in 8 mm tape on a 7 in. diameter reel grouped by luminous intensity and wavelength to ensure an even appearance in end products. They are compatible with IR reflow soldering and compliant to RoHS Directive 2002/95/EC and in accordance to WEEE 2002/96/EC. VLMx1300 LEDs are lead (Pb)-free and are suitable for lead (Pb)-free soldering.
Samples and production quantities of the new ChipLEDs are available now, with lead times of eight weeks for larger orders.