New Tricolor LEDs with 3.4- by 2.8-mm Footprint Deliver Superior Resolution to Indoor and Outdoor Multi-Color Displays
Avago Technologies (Nasdaq: AVGO), a leading supplier of analog interface components for communications, industrial and consumer applications, today announced a new family of high-brightness LEDs in ultra-small packages at the Combined Exhibition of Advanced Technologies (CEATEC) Japan 2010. The new ASMT-YTx2 tricolor surface-mount devices are available in 3.4- by 2.8- by 1.8-mm Plastic Leaded Chip Carrier (PLCC)-6 packages. The small footprint, high-brightness performance and robust contrast ratio of the devices all address demand for improved screen resolution in video screens and advertising signs used in transit malls, airports, stadium scoreboards and more, and also target gaming machines and decorative lighting.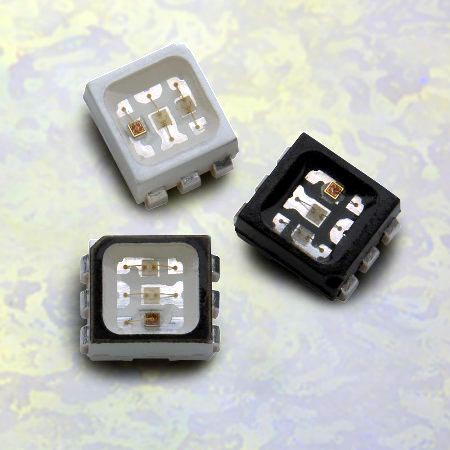 Designers are choosing surface-mount LEDs because of their ease of assembly, compact footprint, and manufacturing flexibility, which reduce overall system development costs. The ASMT-YTx2 surface-mount devices are encapsulated in a heat- resistant silicone material, enabling them to operate in a wide range of environmental conditions with high reliability and long operating life. The LEDs have six leads that provide flexible color control for each chip to display a multitude of colors, including white. The devices are also water-resistant (compliance with IPx6), which reduces the cost and overall weight of signs by eliminating the need for protective covers.
"The market for indoor and outdoor displays presents a significant growth opportunity for LEDs over the coming years," said Francis Khor, director of marketing for the Optoelectronics Product Division at Avago. "Avago's ASMT-YTx2 LEDs are engineered to meet the display market's demand for reliable high-brightness, high-resolution performance, all at a competitive cost."
Additional ASMT-YTx2 Features
Compliance with IPx6 per IEC 60529:2001 (water-resistance)
Wide 120-degree viewing angle
Compatible with reflow soldering processes
Lead-Free and RoHS compliant
Moisture sensitivity: JEDEC MSL 2a
U.S. Pricing and Availability
The ASMT-YTB2, ASMT-YTC2 and ASMT-YTD2 LEDs are priced at $0.69 each in minimum quantities of 1,000 pieces. Samples and production quantities are available now through Avago's direct sales channel and worldwide distribution partners.