Fujitsu Develops World's Smallest Palm Vein Biometric Authentication Sensor
Fujitsu Laboratories has announced development of the world's smallest and slimmest palm vein authentication sensor that is capable of being employed in tablet devices. By upgrading the technology's design with new image sensors and other optical components, Fujitsu Laboratories has slimmed down the new sensor to a thickness of 5mm.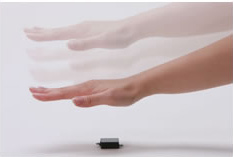 The new sensor preserves the same authentication performance as existing technology while halving thickness of current models. This also enables easy deployment to mobile devices, such as tablets, which are becoming increasingly slimmer, and helps to expand the range of applications for palm vein authentication. More customers will now be able to perform secure authentication using simple operations.
In order to successfully develop a palm vein authentication sensor that achieves both high-speed authentication and simple user operations, a high-performance image sensor with a large optical area was required. This requirement has presented challenges in terms of miniaturization, and has limited the use of such technologies to A4-size notebook PCs. Even if it were possible to create a smaller and thinner sensor, images captured by such sensor would be notably different from those generated by existing palm vein sensors, meaning that data compatibility with existing models was not guaranteed. This posed restrictions when building systems that incorporated the technology.

The new technology maintains compatibility with existing palm vein sensors, equivalent authentication performance and a reduction in size and thickness. Compared to Fujitsu's palm vein authentication sensor product that shipped in May 2011, Fujitsu Laboratories has succeeded in reducing the sensor's volume by 80% and in scaling the overall thickness down to only 5mm. This size can be housed in the slot where fingerprint sensors have been installed in previous notebook and slate PC models.
Fujitsu Laboratories will continue R&D into the commercialization of ultra-small palm vein authentication, while aiming to quickly bring to market miniature devices that employ them.