ZENS, developer of innovative wireless charging solutions that meet and exceed the most stringent consumer demands, announced the launch the world's first integrated wireless charging solution for the Samsung's Galaxy S3. This wireless charging solution offers ease of use while consumers no longer have to worry that they will run out of mobile power.
ZENS combined the significant progress in semiconductor integration and its own, extensive experience in developing and manufacturing wireless power products to make ultra-thin and small wireless power receivers. The power receiver solution is neatly integrated in a ZENS battery compartment door. The consumer simply replaces the standard battery compartment door of his Samsung Galaxy S3 with the ZENS battery compartment door and the phone will work seamlessly with the ZENS Wireless Charging pad, at home or in the office. The ZENS battery compartment door with wireless charging capabilities is available in both Marble White and Pebble Blue to perfectly match the color of the Samsung Galaxy S3.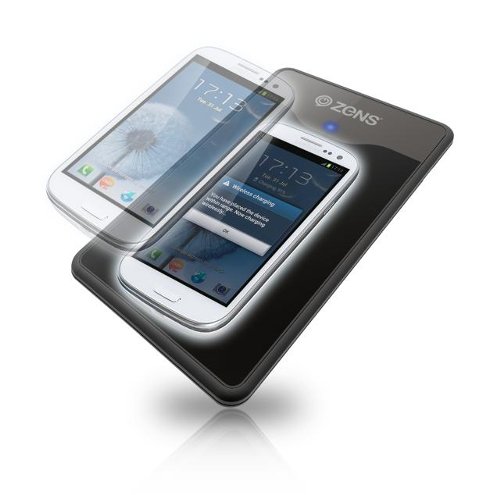 Ease of use and free positioning
The ZENS Single Wireless Charger features a timeless, modest design. The charging pad is extremely easy to use. The underlying induction technology ensures foolproof charging every time a mobile phone or other Qi compatible device is placed on the charger. The free positioning feature of the ZENS Single Wireless Charger allows for ultimate user comfort and a flawless performance. Thanks to several induction coils in the charging pad, the device doesn't have to be locked into an exact position. The user is ensured that, when he or she places the phone on the pad, its battery will be charged successfully at all times. For ease of mind, a blue light on the charger also indicates when the phone is charging.
All of ZENS' wireless charging products are designed with concern for sustainability. Standby-power is ultra-low and once fully charged, the system automatically shuts down.
The wireless charging solution for the Samsung's Galaxy S3 is available from September onwards at premium retailers and operators. The suggest retail price of the bundle being the ZENS battery compartment door and the ZENS Single Wireless Charger is € 69.