Alpha and Omega Semiconductor Limited (AOS) introduced the first of a new product line of Power Factor Correction (PFC) devices; the AOZ7111 is an active power factor correction controller which integrates a number of safety features and functions for the design of robust, efficient and cost-effective off-line power conversion solutions. The AOZ7111 is ideally suited for PFC applications that operate in critical conduction mode (CRM) such as switch mode power supplies (SMPS), LCD TVs, LED and ballast lighting, and AC-DC adapters.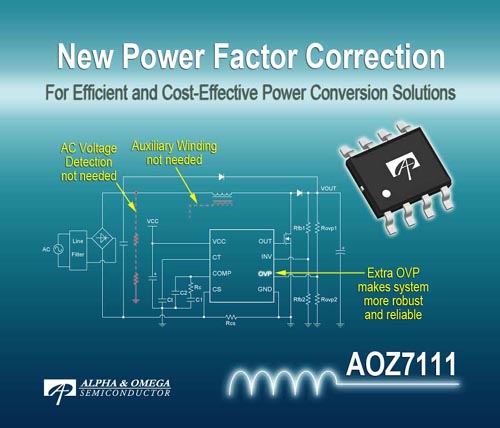 Power Factor Correction is a vital part of increasing overall power grid efficiency and is thus mandated in an increasing range of power supply applications. The AOZ7111 is AOS value added entry in this emerging market which combines an AC input voltage fault detection function with an internal closed-loop soft-start to allow a well managed current ramp-up. This feature prevents large inrush currents during the system's startup and reset operations. The secondary OVP function also makes the system more robust and reliable. Additionally, the AOZ7111's zero current detection feature eliminates the need for an auxiliary winding to reduce system cost.
Technical Highlights
Critical conduction mode PFC controller
Control mode: voltage
Topology: boost
Frequency operation: variable
Package: Halogen free and RoHS compliant SOIC-8
Pricing and Availability
The AOZ7111 is immediately available in production quantities with a lead-time of 12 weeks. The unit price for 1,000 pieces is $0.49.