Alpha and Omega Semiconductor (AOS) introduced AOZ5038QI, the highly versatile latest generation of power modules. The AOZ5038QI integrates a dual gate driver and two optimized MOSFETs in a 31-pin 5 mm × 5 mm QFN package to produce a high-power and high-efficiency power stage for synchronous step-down applications. The new AOZ5038QI enables high power density-voltage regulator solutions ideal for CPU and GPU power regulation in notebook PCs, servers, and graphic cards. The standard 5 mm × 5 mm QFN package is optimally designed to provide maximum power density and minimize parasitic inductance for minimal EMI signature.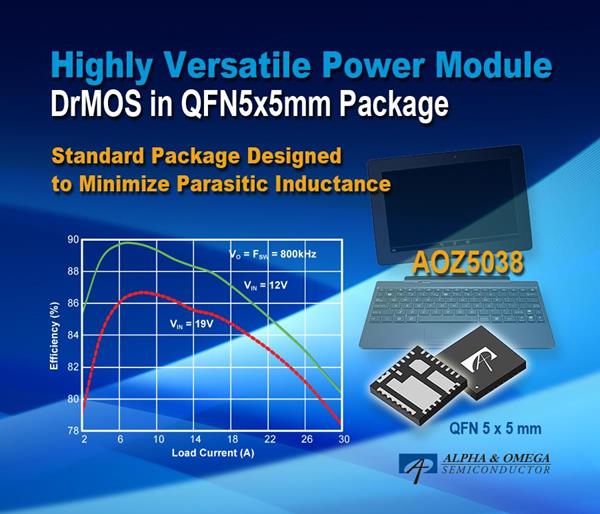 "Complement to our small form factor, QFN3.5×5 power stage series, the AOZ5038QI is a new addition to our QFN5×5 standard package footprint series with higher power density for today's high-end computing and graphic applications," said Peter Cheng, Sr. Director of Power IC Product Line at Alpha and Omega Semiconductor.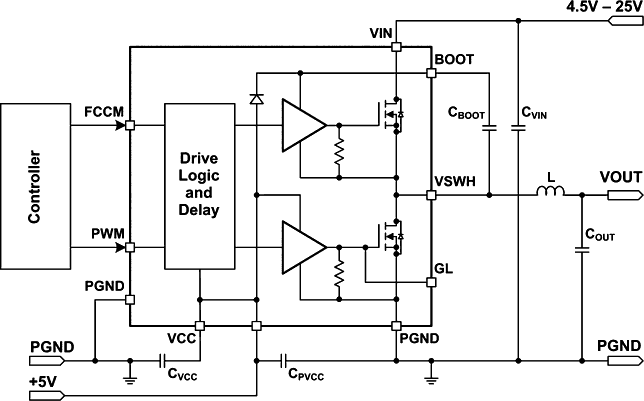 Typical Application Circuit.
Technical Highlights
Input Voltage Range: 4.5 V to 25 V
Output Current: Up to 60 A
Switching Frequency: Up to 2 MHz
Package: 31-pin 5 mm × 5 mm QFN
Standard: IMVP8
Pricing and Availability
The AOZ5038QI is immediately available in production quantities with a lead-time of 12 weeks. The unit price for 1,000 pieces is $1.90.