»
News
»
Electronic components
·
Power
·
Solar
0.6-4.5VIN, 1.8-5.25VOUT, 3.5-μA, Low Input Voltage, High-Efficiency Boost + LDO
The TS3300 is a 1st-generation Touchstone Semiconductor power management product that combines a high-efficiency boost regulator and a low dropout linear regulator (LDO) in one package. The boost regulator operates from a supply voltage as low as 0.6V and can deliver at least 75mA at 1.2VBI to 3VBO, an industry first. The TS3300 LDO's input is connected to the output of the boost regulator, serving as a post-regulator for the boost, enabling a number of useful functions such as a buck-boost function. In power harvesting or peak load buffering applications, the LDO may post-regulate voltage buffered in a large capacitor or supercapacitor at boost's output. Finally, the LDO may be operated simply as an on/off load switch. The LDO can deliver up to 100mA output current at a dropout voltage of 255mV and reduce the ripple voltage out of the boost regulator by a factor of 3.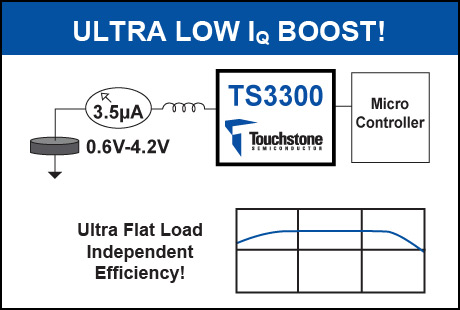 The TS3300's boost section includes an anti-crushTM feature to prevent the collapse of the input voltage to the boost regulator when the input is a weak (high impedance) source. If the input voltage drops below a determined voltage threshold (settable by a resistor divider), the boost regulator switching cycles are paused, effectively limiting the minimum input voltage. Anti-crushTM is useful in applications where a buffer capacitor at the boost's output can service burst loads, and the input source exhibits substantial source impedance (such as with an old battery, or at cold temperatures).
The TS3300 is fully specified over the –40°C to +85°C temperature range and is available in a low-profile, thermally-enhanced 16-pin 3×3mm TQFN package with an exposed back-side paddle.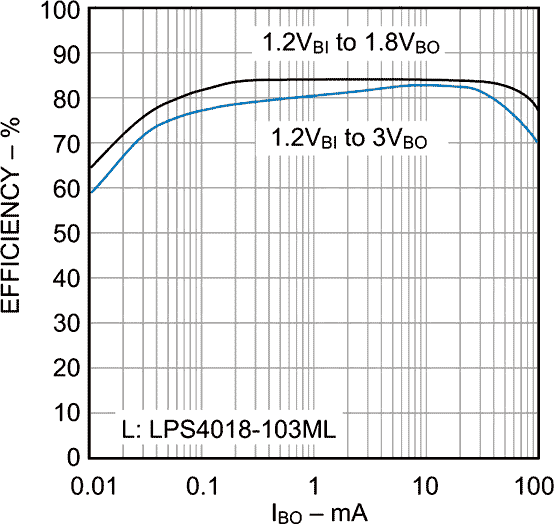 Boost Regulator Efficiency vs Load Current
FEATURES
Combines Low-power Boost + Low Dropout Linear Regulator (LDO)
Boost Regulator

Input Voltage: 0.6V- 4.5V
Output Voltage: 1.8V- 5.25V
Efficiency: Up to 84%
No-Load Supply Current: 3.5μA
Delivers >100mA at 1.8VBO from 1.2VBI
Shutdown Control

Anti-Crush Capability

Prevents Input Voltage Collapse when powered with Weak/High Impedance power Sources

Single-Inductor, Discontinuous Conduction Mode Scheme with Automatic Peak Current Adjustment
LDO

Adjustable LDO Output Voltage: 1.8V- 5V
Dropout Voltage: 255mV @ 100mA

16-Pin, Low-Profile, Thermally-Enhanced 3mm × 3mm TQFN Package
APPLICATIONS
Coin Cell-Powered Portable Equipment
Single Cell Li-ion or Alkaline Powered Equipment
Solar or Mechanical Energy Harvesting
Wireless Microphones
Wireless Remote Sensors
RFID Tags
Blood Glucose Meters
Personal Health-Monitoring Devices
You may have to

register

before you can post comments and get full access to forum.
News on theme:
RadioLocman on the Social Web: