TI nano timers extend the lifetime of battery-powered and energy harvesting systems
Texas Instruments introduced two programmable system timers that significantly reduce system standby power consumption. The TPL5000 with watchdog timer and TPL5100 with MOS driver draw only 30 nA of current, a reduction of 90 percent compared to competitive solutions. They also replace a microcontroller's (MCU's) internal timer, allowing the MCU to remain in low-power sleep mode. As a result, these programmable devices allow designers to achieve system standby power savings of up to 80 percent over existing solutions.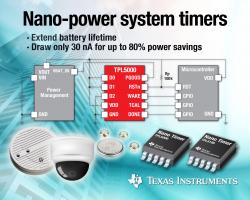 TI nano timers address a wide range of battery-powered and energy harvesting systems, including smoke alarms, CO alarms, intelligent price tags, occupancy sensors, security cameras, door locks, wireless sensor nodes and data loggers. In these applications, the main system is in sleep mode or power-down mode most of the time, which makes the power consumption of the MCU internal timer significant. By drawing much lower current than an MCU timer, the TPL5000 and TPL5100 greatly reduce power consumption and extend the operating life of these systems.
Key features and benefits of the TPL5000 and TPL5100:
Lowest power consumption available: Enables the use of smaller, more affordable batteries, while extending battery life.
Programmable timer intervals: The TPL5000's selectable timing delay can be set from one to 64 seconds to further extend battery life in smoke detectors and many other applications. It can be programmed for 16- to 1,024-second intervals in energy harvesters, wireless sensor nodes and data loggers, where measurement data changes slowly.
Supports European safety standard: The TPL5000 supports the EN50271 European safety standard without adding to a system's power consumption budget.
Complete battery-powered solution: Combines with any microcontroller, including TI's Tiva C Series TM4C123x ARM Cortex-M4, Piccolo C28x and fully programmable MSP430G2553 Value Line. It can also be used with the LMP91000 configurable AFE potentiostat for chemical sensing or LMP91050 configurable AFE for NDIR sensing, as well as the bq25504 nano-power management IC, and TPS62175 and TPS61220 DC/DC converters.
Tools and support
System designers can purchase the TPL5000EVM or TPL5100EVM today for a suggested retail price of US$20. These evaluation modules (EVMs) allow designers to configure the TPL5000 and TPL5100's delay timers and measure their ultra-low current consumption. The EVMs connect directly to the MSP430, Tiva C Series and C2000 Piccolo LaunchPads to test their watchdog timer and power cycling features. IBIS models are also available for the TPL5000 and TPL5100 to verify signal integrity.
Availability, packaging and pricing
The TPL5000 and TPL5100 are available today in 10-pin, 3 mm by 5 mm VSSOP packages for a suggested retail price of US$0.60 in 1,000-unit quantities.