Ideal for Long-Range Car Access and Smart RF Systems, the Extreme Flexibility in These New Devices Reduce Production Time and Cost
Atmel Corporation announced the availability of a new family of low-power, high-performance RF receivers designed specifically for the automotive and smart RF markets.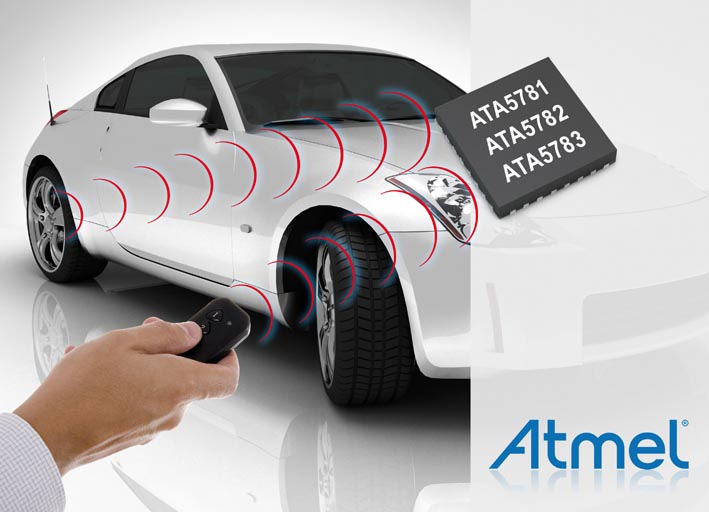 With the industry's lowest power consumption, high sensitivity and excellent out-of-band blocking performance, the three new devices (ATA5781, ATA5782 and ATA5783) are ideal for automotive applications including remote keyless entry (RKE), passive entry go (PEG)/ passive entry passive start (PEPS), remote start (RS) and tire pressure monitoring (TPMS) systems. This new RF family is also a perfect fit for a broad range of smart RF applications including remote control systems such as garage door openers or telemetering applications.
The ATA5781, ATA5782, and ATA5783 family consumes only 9.8mA typical in receive mode whereas the power consumption of competing devices is 12mA typical. This reduced drain will leave more charge in the battery leading to longer standby times when the car is stopped with the receiver enabled. The parts feature an excellent sensitivity of –122.5dBm typical when programming the IFBW (intermediate frequency bandwidth) to its lowest value of 25kHz. This enables an extended RF communication range.
RF blocking performance rates the receiver's immunity to disturbers. These disturbers are frequently present in the field. The outstanding blocking performance of the ATA578x family significantly reduces power-robbing false wake-ups. It also prevents RF range reduction and communication failure caused by RF disturbers.

The new devices provide dual paths for simultaneous FSK and ASK reception and superior flexibility by combining RF functionality, an advanced state machine, and an Atmel AVR® microcontroller core. Customers can configure up to five services including RKE, RS, PEPS, and TPMS on the fly in idle mode via SPI (serial peripheral interface). This makes end-of-line programming at the customer production site no longer necessary and thus helps to save production time and cost. The dual path reception and flexibility lets customers adapt receiver behavior to individual applications. Customers can optimize power consumption since they can adapt the polling scheme as needed. If customer-specific adaptations are required, designers can add the existing firmware via Flash (ATA5782) or user ROM (ATA5783).
The new RF receiver family includes:
ATA5781: Ready-to-use RF receiver IC with integrated firmware
ATA5782: Firmware is included in read-only memory (ROM). Additional Flash option for application-specific software needs
ATA5783: Cost-optimized version of ATA5782, where customer software is ROM masked
Atmel's RF portfolio includes receiver and transceiver devices (ATA5831/32/33) that are pin-, function- and RF-matching-compatible to ensure maximum development re-use for one- and two-way systems. This minimizes the system designers' design efforts. To help further reduce development and production complexity and to accelerate time to market, end-application engineers can use the same printed circuit board design for uni-directional and bi-directional car access systems.
Availability
Samples of Atmel's ATA5781, ATA5782 and ATA5783 in 5mm × 5mm small QFN32 packages are available now starting at $1.90 USD (50K pcs). Car access kits (ATAK51003-V1) to support design-in and shorten time-to-market are available.