Industry's First Complete Testing Service Helps Lighting OEMs Speed Time-to-Market and Overcome Common Design Challenges
Cree, Inc. (Nasdaq: CREE), a market leader in LED lighting, announces the commercial availability of TEMPO™ Services, a comprehensive set of quantitative and qualitative tests and analyses for LED-based lighting fixtures and lamps. TEMPO (Thermal, Electrical, Mechanical, Photometric and Optical) Services represent the accumulated advantage of Cree's extensive experience with customer LED systems combined with the use of calibrated test equipment to give LED lighting manufacturers and end users confidence in LED product designs.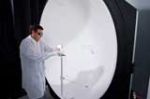 Third-party labs currently provide testing services, such as IES LM-79, which is widely regarded as the most comprehensive LED luminaire test in the industry. However, through years of experience with component LEDs and Cree LED-based lighting systems, Cree has identified many other aspects of end-product quality that are not and cannot be examined by third parties. These aspects of quality include chemical compatibility between materials used in the luminaire and the LEDs, the effectiveness of mixing slightly different color LEDs for enhanced color consistency and TM-21 LED lifetime projections.

"At Cree, we've really 'seen it all' when it comes to LED components and successful LED designs don't just happen—they are methodically constructed," said Mark McClear, director of applications engineering, Cree. "TEMPO Services can give manufacturers competitive advantages by helping them avoid costly design mistakes and by providing access to a broad range of test environments that are, in many cases, cost-prohibitive for them to build and operate."

Cree offers a range of TEMPO Services to LED luminaire makers, depending on their product development needs. The flagship service is the TEMPO 21 Service, the most comprehensive LED luminaire test available, which measures and analyzes a final product design before submitting it for LM-79 certification. TEMPO 21 examines all the aspects of quality that Cree has identified as critical. Cree then provides the testing results and performance data in a professional, easy-to-read format through the TEMPO report, which can become a valuable piece of product sales collateral for TEMPO customers.
In addition to a TEMPO report, the TEMPO 21 Service also includes consultation time with a Cree Application Engineer to review the testing results and highlight possible areas for improvement in the design.
Cree is also offering two quick turnaround testing services so LED system designers do not have to procure, calibrate and operate their own testing equipment during the design validation stage of development. The TEMPO SPOT Service provides measurements of flux, efficacy and chromaticity for luminaires and replacement lamps. The TEMPO FLASH Service provides measurements of flux, chromaticity and throw for torches and other portable lighting designs.
Cree is currently providing TEMPO Services out of its Cree Technology Centers, located in Research Triangle Park, N.C. and Santa Barbara, Calif. Future TEMPO Service locations are targeted to include Munich, Shanghai and Taiwan, making these valuable services available to lighting designers and manufacturers across three continents.